Biden to propose new billionaire tax – Bloomberg
In addition to the measure, the corporate tax rate would rise to 28%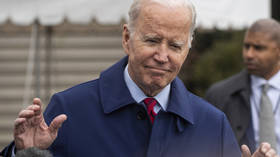 US President Joe Biden's budget proposal to Congress will include a 25% tax on billionaires as well as increased rates for wealthy investors and corporations, according to Bloomberg. The plans are set to be unveiled during Biden's visit to the swing state of Pennsylvania on Thursday.
In addition to the "25% minimum tax" on billionaires, the plan would nearly double the capital gains tax rate for investment to 39.6% from 20%, as well as raising income levies on corporations and wealthy Americans, Bloomberg reported, citing a White House official "familiar with the proposal." The corporate tax rate would rise to 28% from 21%, which would undo a "signature Trump tax change," the report noted.
The proposals would appear to have little chance of passing Congress, given that Biden failed to push through similar plans even before the Democrats lost control of the House of Representatives in November's midterm elections.
The speaker of the House, Republican Kevin McCarthy, told reporters on Wednesday he does "not believe raising taxes is the answer," arguing that doing so "in a low-growth economy like this will only hurt us more and put us into recession."
The two parties are also locked in debate over raising the US debt ceiling, which hit the $31.4 trillion threshold in January and threatens to trigger a default on the federal government's debt. The Bipartisan Policy Center, a Washington think tank, warned in February that the money on hand could run out by summer if the ceiling was not increased.
The Biden administration has not commented on the latest reports, but White House spokeswoman Karine Jean-Pierre said during a Wednesday press briefing that the president will present his budget plan on Thursday. Jean-Pierre said the administration is focused on "making the wealthy and big corporations pay their fair share without raising taxes on Americans that are making less than $400,000." According to Bloomberg, those making $400,000 would have their top tax rate increased to 39.6% from 37%.
Jean-Pierre said Biden wants to work "in a bipartisan way" and is ready to talk with Republicans on the budget.
You can share this story on social media: