Pentagon blocking information on alleged war crimes in Ukraine – NYT
US military chiefs reportedly fear setting a precedent in the Hague court that might lead to the prosecution of Americans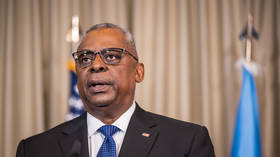 The US Department of Defense is reportedly at odds with the administration of President Joe Biden over helping the Hague-based International Criminal Court (ICC) investigate alleged war crimes committed in Ukraine, the New York Times reported on Tuesday.
According to the outlet, the Pentagon is currently blocking Washington from sharing evidence gathered by US intelligence agencies about alleged atrocities committed by Russian forces amid Moscow's military campaign in Ukraine.
The American military leaders are reportedly concerned that helping the Hague court investigate Russians could set a precedent that could lead to the prosecution of Americans themselves. Washington has long criticized the ICC for having "insufficient checks and balances" on the authority of its prosecutors and judges and "insufficient protection against politicized prosecutions or other abuses."
The US officially withdrew from the ICC in 2002 and has passed laws that limit the amount of support the government can provide the court. In December, however, Congress modified its longstanding restrictions on American help to the ICC, allowing Washington to assist the court with investigations and prosecutions related to the war in Ukraine.
However, not everyone in the Biden administration has been on board with the policy, the NYT said, citing anonymous officials familiar with the discussions. Last month, the US National Security Council convened a cabinet-level "principals committee" in an attempt to resolve the dispute. However, Defense Secretary LLoyd Austin continued to object to sharing materials, while Biden has yet to resolve the matter, officials told the outlet.
"D.O.D. [Department of Defense] opposed the legislative change — it passed overwhelmingly — and they are now trying to undermine the letter and spirit of the law," said Senator Lindsey Graham, who helped push Congress to ease restrictions on aiding the ICC. "The sooner we can get the information into the hands of the I.C.C., the better off the world will be," he told the NYT.
Russia, meanwhile, has denied allegations of war crimes in Ukraine and has decried attempts by Western countries to "whip up a quasi-judicial mechanism" to hold Moscow accountable for the purported atrocities. The Russian Foreign Ministry has said such efforts are yet another example of the West's "practice of double standards."
In 2017, when the ICC tried to investigate alleged US war crimes in Afghanistan, Washington imposed sanctions on court personnel, prosecutors, and their families. The sanctions were lifted by the Biden administration in 2021 and the investigation was dropped.
You can share this story on social media: