FBI probing death of 9/11 commission lawyer
Dana Hyde served in the administrations of former US presidents Bill Clinton and Barack Obama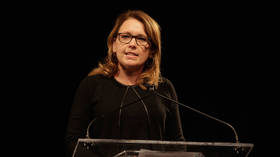 Former Clinton and Obama administration lawyer Dana Hyde was injured aboard a private plane and died in a Hartford, Connecticut hospital following an emergency landing on Friday, state police told the media on Monday. Hyde's identity had not previously been made public.
Hyde died of blunt force injuries, according to the state chief medical examiner. Her family has not issued a statement, though her husband, Jonathan Chambers, the couple's two children, and the aircraft's two crew members were reportedly not injured during the flight.
The FBI and the National Transportation Safety Board are investigating Hyde's death, according to the Daily Mail. Specialists have reportedly taken possession of the cockpit voice recorder and flight data recorder from the Bombardier Challenger 300, which belongs to Chambers' employer, high-speed internet provider Conexon.
After taking off from Keene, New Hampshire, en route to the couple's home in Cabin John, Maryland, the plane was allegedly forced to change course and land at Bradley International Airport in Hartford due to "severe turbulence." Connecticut state police received a medical assistance call while the plane was still in the air and were waiting at the airport with an ambulance to take the 55-year-old to St. Francis Hospital.
Media reports claim the plane hitting a patch of "severe turbulence" caused Hyde's death while apparently sparing the rest of the passengers. The NTSB is allegedly looking at a "reported trim issue," relating to "adjustments that are made to an airplane's control surfaces to ensure it is stable and level in flight."
At the time of her death, Hyde was working part-time as an adviser to the Aspen Institute think tank, where she co-chaired its Partnership for an Inclusive Financial System. She held several roles in the Obama administration, ultimately being appointed CEO of the Millennium Challenge Corporation after stints as associate director of the White House Office of Management and Budget and senior adviser to the deputy secretary of state. She served as counsel to the 9/11 Commission after working as a special assistant to the deputy attorney general under Clinton.
You can share this story on social media: