Police change story on former Clinton aide 'suicide' – media
Mark Middleton was found with a gun after all, located 30 feet from his body, the Daily Mail reports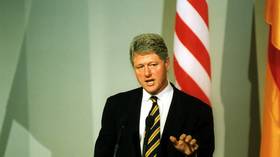 A shotgun was found near the body of former Bill Clinton aide Mark Middleton, who was discovered hanging from a tree at the Heifer Ranch last May with his chest blasted out, a report seen by the Daily Mail on Thursday claims. This contradicts an earlier report seen by the paper which said no firearm was found at the scene.
According to the Mail, Perry County Sergeant Keenan Carter, said a Stoeger 12-gauge coach shotgun, was discovered 30 feet from Middleton's body. They also say that the former Clinton aide had texted his wife Rhea shortly before pulling the trigger to say he had found "the perfect place for a nap in the sun" and reassure her she was "a great Mom and wife."
According to Sergeant Carter's report, Middleton "pulled the trigger on the firearm causing [sic] it to discharge and strike him in the chest and then he fell from the bench causing the extension cord to become tight cutting off his breathing."
The gun was found so far from the body "due to recoil from the discharge and the height and angle of the ground," Carter explained, insisting there was no "evidence to indicate that there was anyone present with Mr. Middleton at this scene or any evidence that there was any type of struggle and/or foul play."
In the original report, Sheriff's Deputy Jeremy Lawson writes that he and an employee of the property owner discovered Middleton's dead body hanging from a tree by an electrical cord. Searching Middleton's vehicle turned up boxes of ammo and a gun case, but no gun. The initial report did not mention any gun found at the scene.
The Arkansas state medical examiner concluded that Middleton died by "suicide" from a "contact shotgun wound of chest and hanging" in his autopsy report, the first page of which was published by the Daily Mail on Thursday. The nine-page report reportedly mentions Middleton's "history of depression."
Middleton, a special adviser to Bill Clinton during his first term as US president, infamously signed sexual predator Jeffrey Epstein into the Clinton White House at least seven of the 17 times he was known to have visited and flew with Clinton on the pedophile's 'Lolita Express' private plane.
You can share this story on social media: