US could 'shift focus' from Europe to Asia 'anytime' – Berlin
Western Europe should take more responsibility for its own security, German Defense Minister Boris Pistorius believes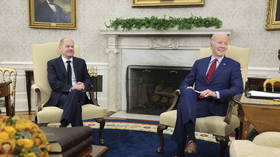 German Defense Minister Boris Pistorius has expressed concern that European members of NATO are too reliant on the US in the area of defense. He admitted there is pressure on him "at all times," during a talk with Germany's Deutschlandfunk (Dlf) radio broadcaster on Wednesday, adding that Washington's priorities could always change.
"We always have to keep in mind that the Americans could… shift their focus… towards the Indo-Pacific [region]," Pistorius said. He added that this could happen for a range of reasons, and the likelihood of such a scenario may be influenced by the outcome of the US presidential elections next year.
The minister called on Western European states to make "more efforts" to develop their own coordinated defense policy and assume the "corresponding responsibility." He maintained that they could always rely on their "transatlantic partner," but added that "the balance can shift and we have to prepare for that."
Pistorius also said Germany and the US would have to coordinate their approaches to China. Asked about "teamwork" between Washington and Berlin in dealing with Beijing, he said: "I believe it will be done anyway, and that is necessary." He did not rule out Germany joining US-led sanctions against China, should Beijing supply Russia with lethal weapons amid the ongoing conflict between Moscow and Kiev.
Pistorius' remarks come around a week after he admitted that Germany does not have sufficient forces to defend itself against "an offensive" after years of neglecting its own army. Earlier this week, Germany's ZDF broadcaster also reported that the German Army – the Bundeswehr – was struggling to fulfill its obligations as part of a NATO rapid response force (VJTF) due to a lack of battle-ready tanks.
Despite facing such issues in the field of defense, Berlin has been providing extensive support to Ukraine in its conflict with Russia, sometimes at the expense of its own defense capabilities. Armin Papperger, CEO of Rheinmetall, the country's top military contractor, told the Pioneer podcast in late February that the government had transferred two state-of-the-art air defense systems to Ukraine that were meant to protect the German capital.
You can share this story on social media: