US state pushes 'anti-woke' bill
Iowa is the latest red state seeking to remove equality requirements from higher-learning centers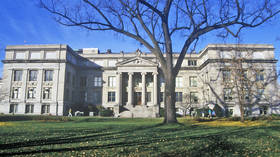 Republican-led legislation that would cut funding to university programs in the US state of Iowa which push a so-called "woke agenda" is currently being considered by the state's House of Representatives.
The bill, known as House File 616, would stop public universities in the state from being able to seek funding for Diversity, Equity and Inclusion (DEI) offices. It would also prohibit employees working in positions related to race, gender identity or sexual orientation.
"For too long, the DEI bureaucracies at our institutions of higher education have been used to push a woke agenda on the faculty, staff and students," Iowa State Representative Taylor Collins said last week. He added that he believes such programs are designed by those who lead them to "indoctrinate students into their preferred political ideology."
Critics of the bill, though, say that DEI funding is an important support system for a wide range of students. It is "not just about race, not just about gender," according to University of Iowa President Barbara Wilson, who noted last month that such funding also benefits students with physical or learning disabilities.
Iowa's pushback against DEI initiatives follows a similar stance adopted by Texas, whose Governor, Greg Abbott, told state public colleges and universities to drop DEI requirements from their recruitment strategies. Abbott's chief of staff, Gardner Pate, wrote in a February memo that "illegally adding DEI requirements" to screen potential employees leads to the "exclusion and alienation" of people in the workplace.
Florida Governor Ron DeSantis has taken similar steps to Abott to stop DEI-based initiatives, as well as the study of Critical Race Theory in the Sunshine State.
Collins also wrote on social media that the proposed bill would "return Iowa's higher education institutions' focus back to academic excellence" due to the bill redirecting DEI funding towards tuition and scholarships for lower-income students.
House File 616 is currently awaiting a vote in Iowa's House of Representatives.
You can share this story on social media: