Ukraine responds to fresh Nord Stream allegations
Reports of Kiev's involvement in sabotage are "a compliment for our special forces," but are not true, Ukraine's defense minister insists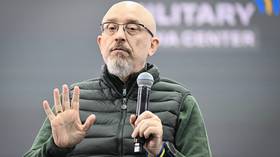 Kiev had nothing to do with the sabotage of the Nord Stream pipelines, the Ukrainian defense minister has said in response to media reports blaming last September's explosions in the Baltic Sea on a "pro-Ukraine" group.
"For me, it's a little bit strange story," Aleksey Reznikov replied when asked about the issue after his arrival at an informal meeting of EU defense ministers in Stockholm on Wednesday.
"This story has nothing [to do] with us," he said, expressing confidence that "the investigation [by] the official authorities will describe every detail" of what had happened.
The claims of Ukrainian involvement in the sabotage are "like a complement for our special forces, but this is not our activity," the minister added.
Journalists asked Reznikov if he was concerned that the latest media reports could lead to a reduction in EU support for Kiev amid the conflict with Moscow. "No, I'm not concerned. Everything would be OK," he said.
On Tuesday, the New York Times reported, citing US officials and unspecified new intelligence, that a "pro-Ukrainian group" may have been behind the September attack that disabled the Nord Stream 1 and 2 pipelines, which were built to deliver Russian gas to Europe via Germany. The US paper's anonymous sources stressed that "no American or British nationals were involved" in the sabotage.
A few hours later, several German outlets claimed the country's investigators looking into the Nord Stream blasts had found that a yacht reportedly used in the attack belonged to a Polish-based firm, owned by two Ukrainians.
Kremlin press-secretary Dmitry Peskov described the reports in the US and German media as "a coordinated media hoax campaign," aimed at diverting attention from the actual "masterminds" of the sabotage.
Last month, veteran American investigative journalist Seymour Hersh released a bombshell report accusing Washington of destroying the Nord Stream pipelines. According to an informed source who talked to Hersh, explosives were planted on the pipelines in the Baltic Sea back in June 2022 by US Navy divers under the guise of a NATO exercise, and detonated remotely two months later. The White House has denied the report by the Pulitzer Prize-winning reporter, calling it "utterly false and complete fiction."
You can share this story on social media: