Vessel linked to Nord Stream sabotage discovered – media
The yacht allegedly belongs to a company owned by Ukrainians, German outlets have reported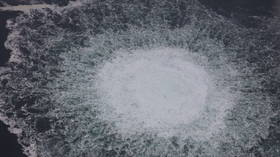 German authorities probing explosions at the Nord Stream gas pipelines have identified a vessel which was reportedly used in the attack on the pipelines. The yacht belongs to a Polish-based company owned by two Ukrainians, according to the reports.
German state broadcaster ARD, SWR radio and Die Zeit newspaper launched what they called their own joint journalistic investigation into the activities of German law enforcement authorities involved in this case.
Their findings indicate the yacht set sail from the German northeastern port city of Rostock on September 6, having received explosives and equipment for the operation a from a delivery truck. The yacht was later identified on the Danish island of Christianso, located just north-east of the island of Bornholm, where the pipelines were damaged on September 26, 2022.
The vessel was then returned to the owners, where investigators managed to find traces of explosives on a cabin table, the outlets claim. The sabotage was reportedly carried out by a team of six people, including a captain, two divers, two diving assistants, and a female doctor.
The identities and nationalities of the suspects remain unclear as they had "professionally forged passports," which they also used to rent the yacht in the first place, according to the reports. The German authorities have also reportedly found no evidence that might point to who might have ordered the pipelines to be sabotaged.
According to ARD, SWR and Die Zeit, a Western secret service organization allegedly tipped off some European "partner services" shortly after the explosions, saying that a "Ukrainian commando" unit was responsible for the attack. The media outlets also claimed there had been "further intelligence indications" that a pro-Ukrainian group could be behind it.
The German government has not commented on the information presented by the media so far. A few days ago, Sweden, Denmark and Germany "informed the United Nations Security Council that the investigations are ongoing and that there are still no results," a government spokesman declared on Tuesday. Kiev denied any involvement in the incident when contacted by the German media.
Citing some anonymous US intelligence officials, the New York Times on Tuesday reported that a "pro-Ukrainian group" was behind the September 2022 attacks. "No American or British nationals were involved," it added.
The NYT also said that the bombs that tore apart three out of four pipeline strings at the bottom of the Baltic Sea were "most likely" planted by experienced divers, who might have received "specialized government training in the past."
You can share this story on social media: