Pharma regulator objects to 'Red Light District'
The European Medicines Agency (EMA) is opposing plans to move nearly 100 of Amsterdam's brothels to a center near its HQ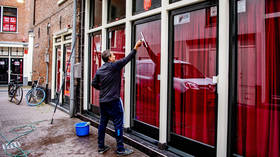 Europe's pharmaceutical regulator, the European Medicines Agency (EMA), says it has concerns about potential "disorderly behavior" in the vicinity of its Amsterdam headquarters if the Dutch city follows through with plans to build an 'erotic center' nearby.
In 2021, Amsterdam Mayor Femke Halsema rubber-stamped plans to relocate 100 of the 249 brothels in the city's Red Light District to a purpose-built, multi-story center designed to house erotic entertainment and legalized prostitution.
The project, which could potentially be built on lands in the city's southern Zuidas district, was proposed to help combat rising crime and public overcrowding in the historic center.
However, the EMA, which moved to the Dutch capital in 2019 after the United Kingdom exited the EU, says it's concerned by the possible implications of any such relocation.
"Locating the Erotic Center in close proximity to EMA's building is likely to bring the same negative impacts to the adjacent area," the agency said in a statement on Tuesday, adding that it had concerns in relation to "nuisance, drug-dealing, drunkenness and disorderly behavior."
The EMA – which among other things regulates Viagra in Europe – also noted that it welcomes a large number of international delegates to its premises, many of whom often leave "late in the evening," suggesting that it would be concerned for their safety if the plan goes ahead.
Safety and security were key considerations when it chose the location for its current headquarters, the agency added.
Haselma, however, has said the plan to relocate the Red Light District had been made to help protect sex workers, and to provide a location in which there is less organized crime.
"I hope it's possible to create an erotic center that has some class and distinction and isn't a place where only petty criminals and the most vulnerable women gather," she told The Observer last year. Haselma also conceded that she was aware that many Amsterdam residents wouldn't want the center to be built near their homes.
The proposal remains under public consultation in Amsterdam, with a final decision on the location expected in late 2023.
You can share this story on social media: