UK mulls spy-balloon fleet of its own
The project is aimed at giving London and its NATO allies 'an advantage over adversaries'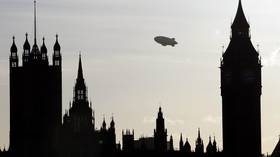 The UK government is researching the possibility of creating its own high-altitude surveillance airships, according to the March issue of Desider, a magazine produced by Britain's Ministry of Defence. This comes shortly after the scandal over a Chinese "spy balloon" in US airspace.
The UK defense ministry last year signed a £100 million ($118.6 million) contract to research "stratospheric uncrewed air systems," according to The Times' report published Monday. Britain is considering buying a fleet of spy balloons, it added.
Project Aether is a research initiative that aims to "better understand the stratosphere and the high-altitude platforms that could operate there," Ross Corbett, the project's military requirements manager told Desider. The research is assigned to the British Defence Equipment and Support's Future Capabilities Group, London's "hub for strategic research and innovation."
"Successfully exploiting [the stratosphere] could mean huge potential benefits," Corbett said. He also explained that there was still a lot of testing to be done before Britain could operate surveillance airships at 50,000 to 80,000 feet above Earth for long periods of time.
The proposed "high-altitude, long-endurance unmanned air systems" could be used for "intelligence, surveillance, reconnaissance and rebroadcast activities" by the UK armed forces and their NATO allies, Corbett said.
Project Aether is working with the American Sierra Nevada corporation, British company Voltitude and the European joint venture Airbus, one of the leaders of the global aerospace industry. Corbett claims that the research will help the UK secure an "operational advantage over our adversaries."
This comes after the highly-publicized scandal between Washington and Beijing in which the US accused China of flying a "spy balloon" over American soil and downed it with a fighter jet. China blasted the US for "overreaction" and insisted it was a civilian airship that had blown off course.
British Prime Minister Rishi Sunak said in February that he was ready to shoot down any Chinese balloons if they were spotted in UK airspace. Sunak added that he would "do whatever it takes to keep our country safe." Defense secretary Ben Wallace alleged in a comment to tabloid The Sun that China has "probably spied" on Britain, adding that "simple things like weather balloons" could be turned into sophisticated surveillance gear.
You can share this story on social media: