Fox News hit with election complaint
Media Matters claims Rupert Murdoch's network gave in-kind contributions to Republicans in 2020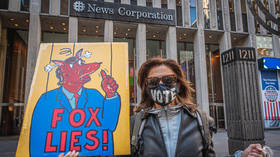 Media Matters for America has filed a Federal Election Commission complaint against Fox News, claiming the cable network provided an illegal contribution to the Republican Party in the 2020 US election. MMFA's head talked up the complaint on Monday, as Fox aired previously unavailable footage of the January 6 Capitol riot.
Fox operates "more like a partisan operation than a news network," Angelo Carusone told Democracy Now! on Monday evening, adding he anticipated "a lot more" FEC complaints going forward.
The MMFA is basing its complaint on one of the documents produced in the ongoing defamation lawsuit against the cable network by Dominion Voting Systems, which is seeking $1.6 billion in damages. According to the discovery in that trial, Fox owner Rupert Murdoch gave then-President Donald Trump's son-in-law and adviser, Jared Kushner, "confidential information" about a campaign ad for Democrat Joe Biden.
MMFA is arguing that the FEC "press exemption" would not apply in this case, and that Murdoch's act amounts to "an illegal corporate in-kind contribution."
"If you try to get around that disclosure law… by giving something that is the equivalent of money, that you would need to spend money on, or that could be considered something of value for a political campaign, you're either not supposed to do it or it's supposed to be disclosed," Carusone told Democracy Now!
Carusone's interview coincided with Fox News showing video from the 2021 riot at the US Capitol, which the new House Speaker Kevin McCarthy – a California Republican – provided to Tucker Carlson, the most-watched evening news host in the US. The footage Carlson aired directly contradicted the narratives about the Capitol "insurrection" put forth by Biden and the Democrats. MMFA has gone after Carlson numerous times, accusing him of everything from "election denial" to racism.
The Republican National Committee has previously complained to the FEC that Twitter had given an in-kind contribution to the Democrats in the 2020 election, by censoring the New York Post's factually true story about Hunter Biden's laptop. Biden, the Democrats and MMFA denounced the report – falsely, as it turned out – as "Russian disinformation." The RNC filed their claim in October 2020, just weeks before the election. The FEC rejected it, without explanation, in September 2021.
You can share this story on social media: