Trailblazing transgender lawmaker dies
Former New Zealand MP Georgina Beyer had been a vocal advocate for LGBTQ rights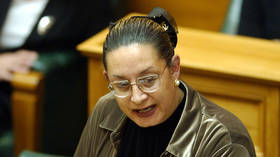 Georgina Beyer, a former politician in New Zealand who had been a sex worker and became known as the world's first openly transgender member of parliament, died on Monday at the age of 65.
Beyer, who campaigned tirelessly for equal rights for LGBTQ people, had been battling kidney disease for some time but a cause of death has not been formally announced.
"I certainly think that Georgina blazed a trail that has made it much easier for others to follow," New Zealand Prime Minister Chris Hipkins said of her passing.
The former Labour Party MP, who as well as being a sex worker also was an actor and drag queen, was elected to New Zealand's national parliament in 1999 after serving several years as mayor of a small rural community in the country's North Island.
She would become known as a key advocate of LGBTQ rights and was prominent in her campaigning for the legalization of civil unions and gay marriage, and for the decriminalisation of prostitution. Her services to her country's LGBTQ community were noted by Queen Elizabeth II in 2020, who awarded Beyer the New Zealand Order of Merit.
Of Maori descent – Beyer served as a Labour MP until announcing her retirement in 2007. She made an unsuccessful bid for parliament again in 2014 with the now-defunct Mana Party.
She was diagnosed with kidney failure in 2013. Throughout her 2014 election campaign and up until receiving a transplant in 2017, she would require kidney dialysis four times a day, seven days a week.
You can share this story on social media: