Japan destroys flagship rocket minutes after launch
The failure is considered to be a significant blow to Tokyo's aerospace ambitions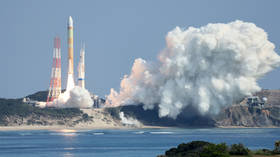 Japan's ambitions to develop a cheaper alternative to SpaceX's Falcon 9 rockets suffered a significant blow on Tuesday after the country's space agency was forced to destroy its flagship H3 vehicle after its second-stage engine failed.
The Japan Aerospace Exploration Agency (JAXA) issued the rocket with a self-destruct order upon discovering that its second-stage engine had malfunctioned shortly after lift off from the Tanegashima Space Center in southern Japan on Tuesday morning. It's the second failure in less than a month, and follows a failed launch in February which was blamed on faulty rocket boosters.
JAXA said afterwards that it had issued a destruct command as there was "no possibility of achieving the mission."
The H3 was carrying a payload of ground-mapping technology which Tokyo said was intended to be used in disaster management scenarios which would "cover all of the land areas not only of Japan but also across the whole world."
Japan's science minister, Keiko Nagaoka, issued an apology for the "extremely regrettable" incident, which she said had "fail[ed] to meet the expectations of the public and related parties."
The failure of the H3 "will have a serious impact on Japan's future space policy," Osaka University space policy professor Hirotaka Watanabe told Reuters. Tokyo had attempted to position the H3 as a more cost-effective alternative to SpaceX's Falcon 9 for commercial and government space launches.
Watanabe added that the H3 failure would have a negative impact on Japan's "space business and technological competitiveness."
Had the mission been successful, JAXA said it was planning to launch the rocket around six times per year for the next 20 years. Tokyo has recently broadened the scope of its cooperation with the United States' space program, and has committed to the transportation of cargo to NASA's planned Gateway lunar space station.
Tokyo has also expressed its own aerospace ambitions, which include landing Japanese astronauts on the Moon.
You can share this story on social media: