US seeking to contain China – Xi
Washington's actions pose a "severe challenge," the Chinese president says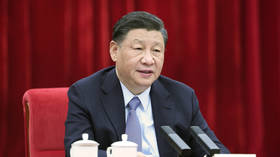 Chinese President Xi Jinping has publicly criticized the US and accused it of leading a Western attempt to "contain" his country. Foreign Minister Qin Gang also warned Washington to "hit the brakes" or risk "conflict and confrontation."
"Western countries led by the United States have implemented all-round containment, encirclement and suppression of China, which has brought unprecedented severe challenges to our nation's development," Xi said in a rare verbal attack on Monday, as quoted by state media.
The Chinese leader was meeting with industry and business groups during an annual gathering of an advisory body to the Communist Party. His speech focused on the national economy, with the remark about Washington's policy illustrating what he called "uncertain and unpredictable factors" in the international environment, which also included the Covid-19 pandemic.
Xi normally refrains from targeted criticism of the US. Michael Swaine, a senior research fellow at the Quincy Institute for Responsible Statecraft, told the New York Times that, to his knowledge, it was the first time the Chinese leader "has publicly come out and identified the US as taking such actions."
Meanwhile, another senior Chinese official accused Washington of using underhanded tactics on Tuesday.
"The US claims that it seeks to out-compete China but does not seek conflict. Yet in reality, its so-called 'competition' means to contain and suppress China in all respects," Foreign Minister Qin Gang said in a speech on the sidelines of an ongoing session of the Chinese legislature.
He compared the US government to an athlete trying to trip their opponent instead of giving its best performance. Washington wants Beijing not to push back when it is targeted by such action or slander, the minister suggested, adding that this was not possible. The US trajectory could lead to a disaster that no guardrails would be able to prevent, he warned.
"If the US does not hit the brakes, but continues to speed down the wrong path, no amount of guardrails can prevent derailing and there will surely be conflict and confrontation," said Qin, who previously served as the Chinese ambassador to the US.
Washington has accused Beijing of undermining a "rules-based order" with its policies and imposed a number of economic restrictions, including last year's ban on exporting certain semiconductors to the country. Tensions escalated further last month after Washington accused the country of flying a "spy balloon" over American soil, which China said was just a stray weather aircraft.
You can share this story on social media: