Scholz claims Russia holds key to ending Ukraine conflict
Germany chancellor insists Moscow must withdraw troops from the neighboring country as a basis for peace talks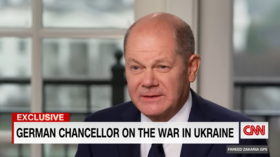 Russian President Vladimir Putin holds the key to ending the bloody conflict in Ukraine, German Chancellor Olaf Scholz declared in an interview with CNN's Fareed Zakaria on Sunday. He insisted that Moscow must pull its troops out of the neighboring country in order for peace negotiations to take place.
However, the Kremlin has already made it clear that this precondition for peace talks was unacceptable.
"It is necessary that Putin understands that he will not succeed with his invasion and imperialistic aggression. And that he has to withdraw troops. This is the basis for talks," Scholz argued.
Ukraine was "ready for peace, but there must be something done – and this has to be done by Putin," he added.
Scholz's comment contradicts messaging from Kiev, where President Vladimir Zelensky has legislated to make talking to the current Russian government impossible.
The German leader was asked whether he thought it was possible for there to be a compromise in which Ukraine ceded Crimea and parts of Donbass to Russia in exchange for security guarantees like NATO and EU membership. In response, the German chancellor said there would be "no decisions without the Ukrainians."
Scholz also claimed the Kremlin had underestimated Ukraine's defense capabilities and the West's willingness to back Kiev before launching its military campaign last February.
Speaking on Friday at the Raisina Dialogue, a leading Indian conference on geopolitics and geoeconomics, Russian Foreign Minister Sergey Lavrov said a peaceful resolution to the conflict was contingent on Kiev overturning its own ban on negotiating with Russia.
You can share this story on social media: