Stopping weapons supplies to Ukraine won't bring peace – Scholz
The German chancellor has attacked critics of Western efforts to arm Kiev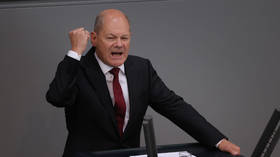 German Chancellor Olaf Scholz has insisted that ceasing the flow of Western weapons into Ukraine will not bring about peace. The politician criticized those protesting against the continued influx of arms during a speech in the Bundestag on Thursday.
Scholz praised the solidarity among the European Union, G7, and NATO in their military support of Kiev, boasting that Germany is training the largest number of Ukrainian soldiers among its allies and pledging ongoing support for Kiev.
"One also does not achieve peace when one shouts 'never again war' here in Berlin, and at the same time demands that all weapons deliveries must be stopped," the chancellor stated.
The comments appeared to be a reference to an anti-war protest organized by Die Linke (Left Party) politician Sahra Wagenknecht and author Alice Schwarzer last week. Thousands of protesters took to the streets of Berlin, gathering at the Brandenburg Gate to demand the government stop sending weapons to Kiev.
In the same speech, Scholz urged China not to provide arms to Russia and instead use its influence "to push for the withdrawal of Russian troops" from Ukraine. That echoed recent warnings by US Secretary of State Antony Blinken, who has claimed that Beijing is considering supplying Moscow with "lethal aid."
China has repeatedly denied the accusations. Beijing's deputy UN ambassador, Dai Bing, told the UN General Assembly in February that "sending weapons will not bring peace." Last week, Chinese Foreign Ministry spokeswoman Mao Ning accused the US of hypocrisy, saying Washington is already fueling the fire in Ukraine by "pouring weapons into one side of the conflict, thus prolonging the fight and making peace elusive."
You can share this story on social media: