UK-led Ukraine arms fund plagued by delays – Guardian
Kiev's forces may have to wait until summer to receive any weaponry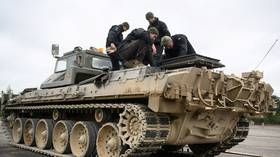 The UK-led international military aid fund for Ukraine has been criticized for failing to quickly allocate pledged resources. Bidders trying to secure military aid contracts through the scheme are frustrated at how slowly the British Defense Ministry is reviewing their applications, the Guardian reported on Monday.
Of the £520 million ($624 million) pledged to the fund by the UK, Norway, the Netherlands, Sweden, Denmark, Iceland and Lithuania, only £200 million ($240 million) has so far been allocated, the newspaper reported. Some participants now fear the delays could mean some of the weapons not reaching the Ukrainian frontline until summer.
The fund was initially launched in August as a "flexible low-bureaucracy fund" that would provide equipment, training and money for Ukraine's armed forces. However, the British Ministry of Defense, which is in charge of overseeing the project, has admitted that awarding contracts "inevitably took time."
According to the Guardian, over 1,500 suppliers are understood to have submitted bids, cumulatively worth over £27 billion. But some of the bidders claim the number of offers has overwhelmed the fund's secretariat, which one supplier suggested was staffed by only two people.
Speaking to the Guardian, a source within the British Defense Ministry insisted that there is a larger team working on reviewing the bids, but admitted that the high level of interest was a "complicating factor."
At the same time, the ministry source insisted that the fund was never intended to be a traditional competitive bidding process, and that the MoD wanted to ensure that it was properly managed in a way that helped Ukraine.
"Ensuring the first round was successful meant we refined the possible purchases from the fund. This inevitably took time," the source said.
Meanwhile, the UK has reportedly been pushing Ukraine towards negotiating with Moscow, with the promise of even more advanced Western weapons to be provided to Kiev's forces, as well as security guarantees from NATO. According to the Wall Street Journal, the British proposal has been backed by France and Germany, which have already advised Ukrainian President Vladimir Zelensky to make "difficult decisions."
Moscow has repeatedly urged the West to stop sending weapons to Ukraine, arguing it only serves to prolong the conflict and will lead to more bloodshed. Russia has also suggested that the West's increasing military support to Kiev is turning the US and its NATO partners into participants in the conflict.
You can share this story on social media: