UK PM to launch anti-asylum bill
The move is part of Rishi Sunak's pledge to "tackle illegal migration"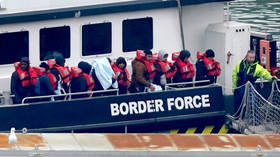 Rishi Sunak's Conservative government in the United Kingdom is set to announce a new law that would stop people who enter the country on small boats from claiming asylum. The legislation, which will be launched this week, comes as part of the government's pledge to "tackle illegal migration."
"Illegal migration is not fair on British taxpayers, it is not fair on those who come here legally and it is not right that criminal gangs should be allowed to continue their immoral trade," Sunak said in an interview with the Mail on Sunday. "So, make no mistake, if you come here illegally, you will not be able to stay."
Provisionally titled the Illegal Migration Bill, the new law will seek to make asylum claims by people who enter the country with the use of small vessels inadmissible by British law. Such migrants would be removed from the UK "as soon as reasonably practicable" to Rwanda or to a "safe third country." Asylum seekers who violate the law will also be banned from returning to the UK.
The UK and Rwanda agreed to a five-year 'asylum partnership arrangement' in 2022, under which asylum-seekers will be permitted to seek asylum in the African country. However, the UK government's attempts to deport people to Rwanda have so far been blocked by courts. Human rights campaigners have also been heavily critical of the plan.
Asylum-seekers looking to gain entry to the UK have rights protected by the UN's Refugee Convention and the European Convention on Human Rights. The Illegal Migration Bill will have a "rights break," which would effectively circumvent the UN's refugee convention, according to the Mail on Sunday.
Critics of the legislation say that the law will not prevent illegal entry, but instead result in thousands of asylum seekers being detained at huge expense to the UK taxpayer. "It's unworkable, costly and won't stop the boats," Enver Solomon of the Refugee Council said.
Last year, an estimated 45,755 migrants crossed the English Channel into Britain, according to government statistics. It is the highest such number since records began being kept in 2018. The UK Home Office says 2,950 have made the crossing so far in 2023, with migrants arriving from a range of countries including Albania, Iran, Iraq, Afghanistan and Syria.
You can share this story on social media: