Mental competency tests idea 'ridiculous' – Jill Biden
The US first lady was responding to calls for the examination from Republicans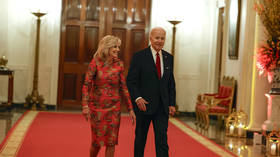 US First Lady Jill Biden has dismissed concerns about her husband's mental acuity after Republican presidential hopeful Nikki Haley called for mandatory mental capacity tests for political candidates above the age of 75.
"Ridiculous," she said to CNN in an interview set to be aired on Monday. She cited Joe Biden's rigorous travel schedule as evidence of his effervescence, mentioning his recent surprise visit to Kiev.
"How many 30-year-olds could travel to Poland, get on the train?" she asked rhetorically. "Go nine more hours, go to Ukraine, meet with President Zelensky? So, look at the man," she added of her husband, who is 80 years old. "Look what he's doing. Look what he continues to do each and every day."
Asked if she believed her husband would ever take such a mental capacity test, Jill Biden responded, "We would never even discuss something like that."
The first lady's comments come after Haley, 51, said earlier this month that the US needed to "move past the stale ideas and faded names of the past" ahead of the 2024 presidential election. Her stance was seen not just as a salvo against the Biden administration, but also Donald Trump, who would be 78 at the time of the next election.
Should the race once again be between Biden and Trump, the winner would be the oldest candidate ever to be elected to the White House.
Vermont Senator Bernie Sanders, who is 81, also pushed back against Haley's suggestion, telling CBS News last month that such suggestions are "ageist."
"We are fighting racism. We're fighting sexism. We're fighting homophobia. I think we should also be fighting ageism," Sanders said. "Trust me, look at people and say, 'You know, this person is competent. This person's incompetent.' There are a lot of 40-year-olds out there who ain't particularly competent."
Biden has yet to confirm if he intends to seek re-election in 2024. If he were to win a second term in Washington, he would be 82 years old on inauguration day.
You can share this story on social media: