Meta is subverting the Bolivian government while enabling the far right
Supporters of the ruling party are finding themselves deplatformed as the social media giant defends the opposition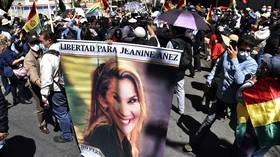 Meta, the company that owns Facebook, has blocked a slew of accounts and groups as part of its "Adversarial Threat" program.
The social media giant said it "took down three CIB (coordinated inauthentic behavior) networks – in Serbia, Cuba and Bolivia – targeting people in their own countries across many services across the internet and linked to governments or ruling parties in each state."
But people in Bolivia took issue with this over freedom of speech concerns. According to a local media report from Kawsuchen News, "1,041 Facebook accounts, 450 Pages, 14 Groups and 130 Instagram accounts were deleted in December 2022. All the banned accounts belonged to supporters of the Movement Towards Socialism (MAS-IPSP), the party of government. Those who were banned have not been able to return. The excuse given is to accuse us of 'coordinated inauthentic behavior.'"
As the report's author, Oscar Alfaro, pointed out, "the accusation of 'coordinated inauthentic behavior' is a concept based on convenience-oriented algorithms. However, such algorithms cannot discern simple social and group behavior. In the case of Bolivia, activists have utilized social media as a platform to provide an alternative to the national media which is dominated by right-wing groups."
Meta claims it is defending "members of the opposition," but, in practice, this means allowing these same groups to publish open hate speech and racial discrimination against Bolivia's minority groups. These are the same groups responsible for the 2020 Bolivian coup that installed the far-right government of (now former) provisional president Jeanine Anez. And Meta is doing so under the guise that, in its view, it is MAS supporters who are posing as "digital warriors," harassing the opposition and mass-reporting their posts.
Many critics have called Anez's regime fascist, and it's not hyperbole. Literal Nazis from Germany found a nest in Bolivia after World War II and planted their seeds in the country, particularly in its eastern portion. That is now the primary home base of today's political opposition, which has committed a litany of human rights abuses.
For instance, the Sacaba massacre, which left 11 people dead and an estimated 98 wounded after police and soldiers fired on protesters who were decrying the undemocratic ouster of former president Evo Morales and the installation of Anez. There was also the Senkata massacre by Anez's forces, which also left another 11 dead and an estimated 80 wounded.
That same month, family members carried the coffins of those killed in the attacks through the city of La Paz, and Anez ordered a crackdown on the march. Armed militias also burned the Wiphala, a symbol commonly used as a flag representing the indigenous people of the Andes region, in public plazas during the political turmoil. Anez instituted this violence with "Decree 4078," which was essentially a license to kill protesters that was so blatant it was even denounced by the Western human rights organization, Amnesty International. With this decree, her regime absolved the country's armed forces of any liability.
That's not even to mention the violent events that took place before she took power in the first place. After the forced resignation of Victor Borda, a MAS representative, from the post of president of the lower house of Bolivia's legislature, protesters tortured his brother and burned his family home down.
I spoke to Oscar Alfaro as a follow-up about Meta's disturbing decision to defend "members of the opposition," who are still committing acts of violence and insurrection. He told me that "the accusation of so-called inauthentic behavior makes no sense in a social network that promotes groups. The terms of service don't forbid having friends with the same political views and use the platform to spread factual information and debunk false news." (Facebook is notorious for allowing fake news to spread in foreign languages other than English due to a lack of qualified staff and a broken AI system).
He also said "all the banned accounts were legitimate and lost all memories accumulated over the years, personal photos and videos with no option to download them at this point, which is technically our personal data, and we trusted these platforms like Facebook and Instagram to make just decisions."
Instead, even though Meta claims to be objective, it is clearly tipping the scale for pro-fascist elements in Bolivia while marginalizing members and supporters of the ruling Movement Toward Socialism (MAS) party. This grossly interferes with Bolivia's internal affairs and helps groups that committed wanton political violence while in power, thwarted freedom of expression and openly massacred pro-MAS activists.
Meta and its companies, like Facebook, Instagram and WhatsApp, are extremely powerful and influential platforms for political groups all over the world. By marginalizing the MAS, Facebook is setting the stage for a potential fascist resurgence, thus, once again, plunging the South American country into years of violence and chaos. Anez and her collaborators are sitting in prison for their crimes against the Bolivian people. They are criminals – proven so by a thorough and public investigation.
Digital platforms, like those hosted by Meta, were extremely useful for organizations seeking to mobilize against Anez. This eventually led to the election of current President Luis Arce, a member of the MAS, and put an end to the pro-Western fascist forces that tortured the plurinational state. Without these tools, or with these tools actively operating against them, the pro-MAS forces will be severely handicapped, and the scales of power could be tipped back towards the criminal far-right elements.
Time and time again, Meta has shown itself to be an enabler of far-right and reactionary forces all over the world, as well as a promoter of fake news, especially in foreign language spaces. It is a platform that has verifiably had a hand in numerous atrocities. It helped spread hate speech in Myanmar, leading to subsequent violence against the Rohingya Muslim population in the country. It also helped enable the organization of the January 6, 2021 Capitol riot in Washington, DC, which was essentially a failed putsch attempt by the far-right and provided a vehicle for the anti-vax movement.
It's for this reason that countries like China and Russia have blocked access to the site, seeing it as nothing more than a destabilization weapon, and even the European Union has implemented legislation to combat its deleterious effects. That's quite understandable since Meta has revealed itself not to be an objective platform for people to connect but has instead resulted in great and irreversible harm to civil society worldwide. What's happening now with Bolivia is just the latest example – and it is yet to be seen how badly Meta will damage the South American country's stability in the future.
The statements, views and opinions expressed in this column are solely those of the author and do not necessarily represent those of RT.
You can share this story on social media: