China doubles down on Taiwan reunification
Beijing says it will take resolute steps to oppose the self-governed island's push for independence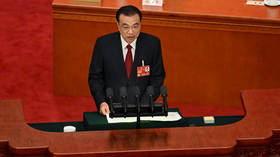 Beijing maintains that Taiwan is part of China's territory and will continue working towards reunification with the self-governed island through peaceful means, Chinese Premier Li Keqiang has said.
"We should promote the peaceful development of cross-Strait relations and advance the process of China's peaceful reunification," Li said in a report to some 3,000 delegates of the National People's Congress, which kicked off in Beijing on Sunday.
The government in Beijing remains committed to the "One China principle," which states that Taiwan is part of China, he reiterated.
The premier stressed the commitment of the Chinese authorities "to take resolute steps to oppose 'Taiwan independence'."
Taiwan's Mainland Affairs Council responded to Li's comments with a short statement, insisting that the island was not subordinate to Beijing, and urging China to "pragmatically handle cross-strait affairs with an attitude of rationality, equality and mutual respect."
Taiwan has been self-governed since 1949, but never officially declared independence from China. Beijing considers the island to be a part of its territory and strongly opposes its contacts with the US, which backs Taipei's push for sovereignty and sells state-of-the-art weapons to the government of President Tsai Ing-wen. Washington has also promised to defend Taiwan if China resorts to using force against it.
Tensions around Taiwan have remained high since August, when then US House Speaker Nancy Pelosi visited Taipei despite warnings from the Chinese authorities. Beijing responded to what it called a "serious provocation" by launching the largest ever military drills in the Taiwan Strait and slapping trade restrictions on the island.
Chinese leader Xi Jinping said last year that Beijing would "continue to strive for peaceful reunification with Taiwan," but added that it "will never promise to renounce the use of force, and we reserve the option of taking all measures necessary."
In late January, the head of US Air Mobility Command, General Mike Minihan, warned his subordinates in a memo that an armed conflict between Washington and Beijing over Taiwan could break out as early as 2025.
You can share this story on social media: