Iran makes pledge to UN nuclear watchdog
IAEA chief Rafael Grossi says Tehran has agreed to reverse a "reduction" in monitoring activities, giving experts more access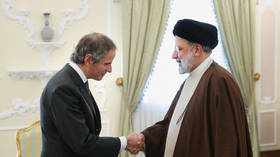 Iran has assured the International Atomic Energy Agency (IAEA) that it will restore the UN watchdog's access to some of the monitoring tools at its nuclear facilities, the IAEA Director General Rafael Mariano Grossi has revealed.
"Over the past few months, there was a reduction in some of the monitoring activities" including cameras and other equipment "which were not operating," but the nuclear watchdog and Iran "have agreed that those will be operating again," Grossi told journalists in Vienna on Saturday.
Earlier that day, Grossi sat down with Iranian President Ebrahim Raisi and several other top officials in Tehran.
A statement published in the wake of those meetings stressed both parties' commitment to cooperating and resolving "outstanding safeguards issues."
Moreover, Iran pledged to grant the nuclear watchdog "further information and access" to three of its nuclear facilities. Grossi told reporters upon his return from Tehran that Iran would allow a 50% increase in inspections at its Fordo nuclear site.
Tehran has also agreed "on a voluntary basis" to allow the "IAEA to implement further appropriate verification and monitoring activities," the joint statement reads.
Commenting on these pledges, Grossi emphasized that "these are not words. This is very concrete," according to the Associated Press news agency.
The IAEA boss noted a "marked improvement" in the level of the watchdog's interactions with Iran, the report said.
"I hope we will be seeing results soon," the official said, as reported by AP.
Grossi's visit to the Islamic Republic came shortly after the IAEA distributed a confidential quarterly report on Iran's nuclear activities to the organization's member states. According to multiple media outlets, which claim to have seen the document, the UN watchdog had found uranium particles enriched up to 83.7% at Iran's underground Fordo nuclear site. This level reportedly falls slightly short of that needed to produce nuclear weapons.
Commenting on media reports, Behrouz Kamalvandi, a spokesman for the Atomic Energy Organization of Iran (AEOI) dismissed them as "slander and a distortion of the facts." The official insisted at the time that the "presence of uranium particles above 60% during the enrichment process does not mean enrichment above 60% level."
Iran agreed to impose restrictions on its nuclear industry, including enrichment activities, under a 2015 deal with world powers. The agreement was torpedoed by then-US President Donald Trump, who pulled out in 2018 to pursue a so-called "maximum pressure" campaign of sanctions. Iran eventually started reneging on its commitments, and announced it was enriching uranium to 60% purity at its Natanz facility in 2021 and at the Fordo site in 2022.
The nuclear deal, known as the Joint Comprehensive Plan of Action, was touted as a way to prevent Iran from acquiring a nuclear weapon, an ambition that Tehran denies having.
You can share this story on social media: