Another train derails in Ohio
Between 20 and 30 cars have gone off the tracks, officials say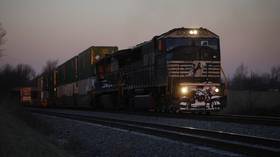 A Norfolk Southern cargo train derailed near Springfield, Ohio in the US on Saturday. The incident comes a month after another train operated by the same company came off the tracks in East Palestine, Ohio, causing a major toxic spill.
This time there were no hazardous materials on the train, Norfolk Southern noted in a statement. "Our teams are en route to the site to begin cleanup operations," the company said. There were no deaths or injuries as a result of the incident, it added.
Residents within 300 meters (1,000 feet) of the crash site have been told to shelter in place "out of an abundance of caution," the local emergency management agency said.
Between 20 and 30 cars out of 212 on the train derailed at around 5 pm by State Route 41, the Springfield News-Sun reported, citing on-site emergency officials.
Electricity was reportedly out in parts of Springfield as power lines were damaged in the crash.
Springfield is a town of around 60,000, located in Clark County some 74km (46 miles) west of Ohio's state capital, Columbus.
A witness, whose car was standing at a railway crossing, was able to film the derailment. "I was right there and I was playing on my phone and then I heard a loud bang… When I heard the bang, there was all kinds of debris and metal shoot out from under the cars and that's when I started recording and you could see them start jumping off the tracks," he recalled.
Meanwhile, the clean-up operation is still ongoing in East Palestine, Ohio where 38 cars, including 11 containing vinyl chloride and other hazardous materials, derailed on February 3, causing a major blaze and chemical spill.
So far, over 700 tons of contaminated soil and more than 7.5 million liters of liquid have been collected from the crash site, the Ohio Environmental Protection Agency said earlier this week, adding that a lot more work still remains to be done.
The state and federal authorities insisted that air and water were safe for residents in East Palestine.
However, some of the locals reported feeling unwell in the wake of the crash.
The Ohio Department of Natural Resources said at least 45,000 animals, all aquatic life forms, had died within a radius of several miles from the derailment.
Around 1,000 derailments take in the US every year, the Washington Post reported, citing data from the Federal Railroad Administration.
You can share this story on social media: