Germany to purge Nazi words from law books
The country's legal code still refers to the "Reich government"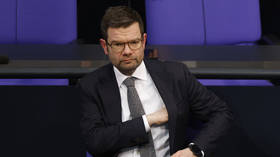 German Justice Minister Marco Buschmann said on Saturday that he will work to eliminate linguistic traces of the Nazi regime from the country's statute books. While Germany adopted an Allied-approved constitution four years after World War II, some Nazi-era laws remain in force today.
In a letter to several government departments last month, Buschmann said that he had identified ten laws and 12 other ordinances that needed "adjustment," German media outlets reported at the time.
Passed during the rule of Adolf Hitler, the laws contained terms like "Reich government" and "Reich Minister of the Interior." A paragraph from a 1939 law regulating non-medical practitioners includes the term "Reich Minister for Science, Education and Public Education," a position last held by Bernhard Rust, who committed suicide in 1945 as Germany surrendered to Allied forces.
Similar titles are included in legislation on banking, tax, and gambling, Buschmann noted.
"My goal is to eliminate these pre-constitutional remnants," Buscmann told Germany's DPA news agency on Saturday. "In general, I have set myself the goal this year of bringing the entire special section of the criminal code up to date."
In addition to referencing Nazi-era government positions, the minister said that some sections of the criminal code on murder and manslaughter refer to a "National Socialist theory of types of perpetrators."
Germany's modern constitution came into force in 1949, after it was approved by the Western powers occupying what was then West Germany. However, the country's penal code was passed by the German Empire in 1871, and survived through the Weimar Republic, Nazi rule, partition, and reunification. It has been significantly reworked over the last 150 years, most notably when passages criminalizing the dissemination of Nazi ideology were inserted after World War II.
You can share this story on social media: