US defies North Korean threats
Washington and Seoul have announced their largest military drills in years despite warnings from Pyongyang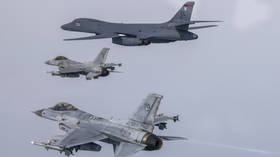 The US and South Korean militaries have announced their largest joint exercises in at least five years and their longest on record, defying threats from North Korea that such drills could be considered a "declaration of war" and lead to "unprecedentedly persistent and strong counteractions."
The exercises, including amphibious landings, will run from March 13 to March 23 and will be the largest-scale joint drills held by the two countries since then-President Donald Trump throttled back such training during peace talks with North Korean leader Kim Jong-un.
The concurrent drills, called Freedom Shield and Warrior Shield, are designed to strengthen the allies' response capabilities amid a changing security environment, North Korean "aggression" and "lessons learned from recent wars and conflicts," US Forces Korea spokesman Col. Isaac Taylor told reporters on Friday in Seoul.
For good measure, the US made a show of force on Friday, deploying a B-1B stealth bomber in a joint air drill with South Korean aircraft. The aim of the drill was to demonstrate Washington's "strong and credible extended deterrence against North Korea's nuclear and missile threats," Seoul's defense ministry said.
Pyongyang has called such joint exercises dress rehearsals for an invasion. North Korean officials said last month that this year's upcoming joint drills were "preparations for an aggressive war," adding that the peninsula would "again be plunged into the grave vortex of escalating tension."
The two Koreas have technically been at war for more than seven decades, as their 1950-1953 conflict ended in an armistice, not a peace treaty. Tensions in the region have escalated in the past year, with North Korea conducting a record number of missile tests.
If North Korea reacts to this month's drills with "provocative acts," such as a nuclear weapon test, the US and South Korea will respond "sternly, based on the overwhelming capabilities of the alliance," said Col. Lee Sung-jun, spokesman for the South Korean Joint Chiefs of Staff.
You can share this story on social media: