Seoul signals nuclear ambitions
The statement follows a spike in missile test activity from North Korea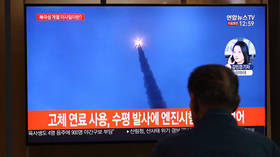 The leader of South Korea's ruling conservative People Power party has suggested that the country "seriously consider" developing nuclear weapons if existing strategies to mitigate Pyongyang's threats continue to be ineffective.
Tensions on the Korean peninsula have flared up since North Korea resumed its ballistic missile tests for the first time since January 1. This followed a record number of missile launches in 2022.
"We need to seriously consider developing our own nuclear capabilities if such a response is insufficient," Chung Jin Suk said on Monday, according to South Korean news agency Yonhap, in reference to the country's so-called 'Kill Chain' first-strike system.
The 'Kill Chain' military protocol was designed as a deterrent to North Korean nuclear threats, and involves preemptive strikes against nuclear missile silos and Pyongyang's senior leadership if an imminent nuclear launch is detected. The system was initiated a decade ago, but has received a renewed impetus under President Yoon Suk-yeol, who took office last May.
Yoon has also stated that his country could seek its own nuclear deterrent – the first time in the post-Cold War era that a South Korean leader has suggested such a plan. He later clarified that it was not an active policy of his government.
The United States is understood to oppose South Korea pursuing atomic weapons, fearing it could lead to an arms race on the peninsula, further inflaming tensions between Seoul and Pyongyang.
North Korean leader Kim Jong-un said in late December that he plans to "exponentially increase" Pyongyang's nuclear arsenal. The country – with which South Korea has been technically at war following an armistice signed in 1953 – recently issued a stern objection to planned military drills, set to take place between Seoul and Washington in the coming weeks.
It has previously referred to such exercises as "dress rehearsals" for a full-scale invasion.
You can share this story on social media: