North Korea doubles down on show of force
Pyongyang fired two missiles shortly after Seoul and Washington demonstrated their "ironclad" unity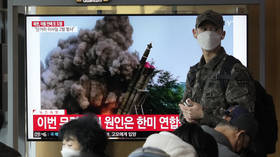 North Korea fired a volley of short-range rockets on Monday morning, a day after South Korea and the US staged combined air drills in an attempted show of force in response to a missile test previously conducted by Pyongyang.
The latest test, conducted at 7am local time, was according reports by state-run KCNA news agency a "power demonstration firing" with two missiles fired from 600mm super-large multiple rocket launchers towards towards "virtual targets" some 395km and 337km away in the Sea of Japan. The statement emphasized that the rocket system "is a tactical nuclear attack means boasting of the great might powerful enough… to destroy an enemy operational airfield."
South Korea and the US staged an aerial exercise on Sunday, to reaffirm Washington's "ironclad" commitment to defending Seoul, and its extended deterrence pledge, which calls on Washington to use all its military capabilities, including nuclear weapons, in case of an attack on its allies. Some ten aircraft were scrambled as part of the drills, during which South Korean F-35A and F-15K fighters, and US F-16s escorted American B-1B aircraft entering the South's air defense identification zone.
North Korean leader Kim Jong-un's outspoken sister, Kim Yo-jong, vowed "to make the worst maniacs escalating the tensions pay the price for their action," responding to the allies' show of force with a separate statement carried by KCNA on Monday morning.
"The frequency of using the Pacific as our firing range depends upon the US forces' action character," she wrote. "We are well aware of the movement of US forces' strategic strike means recently getting brisk around the Korean Peninsula."
The US Indo-Pacific Command swiftly reacted to Monday's launch by calling it "destabilizing," while Japan deemed it a "threat" to its safety, and South Korea's military branded it a "grave provocation."
You can share this story on social media: