Bomb explodes in Montenegro courthouse
One person was killed and several injured by the blast in the capital city of Podgorica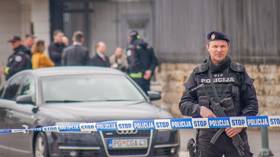 An explosive device was detonated inside a court building in Montenegro's capital Podgorica on Friday, Srdan Korac, a senior police official, has said.
According to Korac, the prime suspect died in the blast, while five others were hospitalized. Korac identified the suspect only by the initials M.B.
Police spokesman Zoran Basanovic told the broadcaster TVCG that officers are working to determine the suspect's motive. "Police and prosecution teams are on the scene. We are establishing all of the facts," he said.
The attack took place at the Podgorica Basic Court, which is located near the city center. Police have blocked traffic on nearby roads and cordoned off the area.
The newspaper Dan quoted emergency services as saying that the victims are not in critical condition.
You can share this story on social media: