MI5 apologizes for not preventing terror attack
The UK spy agency could potentially have stopped the 2017 Manchester Arena bombing if it had acted on intelligence it possessed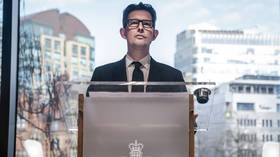 MI5 Director General Ken McCallum has apologized to the victims of the 2017 Manchester Arena suicide bombing, declaring he is "profoundly sorry" that the British intelligence agency failed to act on key information it already held. An inquiry published on Thursday revealed suicide bomber Salman Abedi was known to the agency before the attack.
"Having examined all the evidence, the chair of the inquiry has found that 'there was a realistic possibility that actionable intelligence could have been obtained which might have led to actions preventing the attack,'" McCallum said, adding that he "deeply regrets" his agency's inaction.
The inquiry found that two pieces of intelligence regarding Abedi were judged at the time to be unrelated to terrorism but in fact "transpired to be relevant to Abedi's plan."
"There was a significant missed opportunity to take action that might have prevented the attack," inquiry chair Sir John Saunders admitted, noting that "an ordinary member of the public would be deeply concerned" by MI5's response.
McCallum insisted that MI5 has made "more than 100 improvements" since the bombing, which killed 22 people attending an Ariana Grande concert at the arena, claiming the agency "continually" works to improve and vowing to "do more."
The nature of MI5's information on Abedi remains secret for national security reasons. The first item was considered unlikely to have uncovered Abedi's plot, but had it been handled differently, it could have "increased the overall prospect that the attack would have been prevented" by the time the second item arrived, the inquiry states.
It blames the MI5 officer who received the data for failing to "act swiftly enough." The report revealed that Abedi was not under active investigation despite having traveled to Libya several times with relatives during that nation's civil war and despite having previously been flagged by MI5 computers.
While MI5 initially released a statement claiming officers had overlooked the intelligence because they thought the information related to criminal activity rather than terrorism, Saunders denied that excuse "present[ed] an accurate picture" and accused the agency of attempting to retrospectively justify not acting on it. In reality, he said, MI5's northwestern investigative branch was "struggling to cope" with the sheer number of investigations it had open, and agents worried something would fall through the cracks.
You can share this story on social media: