EU nation failing on promise to Ukrainian refugees – media
At least eight Spanish regions have yet to distribute promised financial assistance, El Pais reported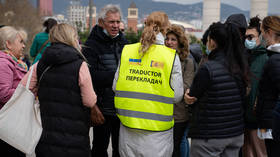 Thousands of Ukrainian refugees in Spain have still not received an allowance promised by the government, with bureaucratic hurdles being blamed, El Pais reported on Friday.
The Spanish government pledged financial help to those affected by the Ukraine conflict as far back as June last year, delegating distribution to local officials. Communities received 70% of the necessary funds in October, totaling €52.8 million ($56 million).
Ukrainian refugees are entitled to €400 ($424) a month per family for six months from the date of request, with €100 added for every child. Families must prove they lack the financial means to cover their basic needs.
However, some Ukrainian refugees have apparently not received a single euro from the scheme. When El Pais sent requests to 17 autonomous regions asking about the status of the funds, eight of them admitted that they are not yet handing out money, while one ignored the inquiry.
Those affected by the delays include Asturias, Cantabria, Castilla-La Mancha, Galicia, Madrid and Murcia, Valencia, and Catalonia. The latter two areas host relatively large proportions of Ukrainian refugees, respectively numbering 27% and 23% of the overall amount in Spain.
According to a spokesman for the government of Valencia, the deadlines for distributing aid had to be extended following objections from the local audit body. Elsewhere, Catalonian officials cited requests with "incorrect data" from refugees, as well as technical issues such as the need for special software, and a lack of staff and translators.
Since the start of hostilities between Moscow and Kiev more than a year ago, millions of Ukrainians have fled to EU countries. The total number of refugees registered within various protection schemes across the bloc is estimated to be almost 5 million.
According to UN data, Ukrainian refugees in Spain number 170,000. However, figures from the Spanish authorities have indicated that only 14% of Ukrainians in the country have a job. A survey to identify the reasons behind the low employment rate found that 56% said it was difficult for them to find work due to a "feeling of temporariness," while 55% pointed to a lack of knowledge of the language.
You can share this story on social media: