Top EU diplomat comments on Russia's G20 membership
Josep Borrell has argued against expelling Moscow from the club, noting that it is important to "at least listen to" each other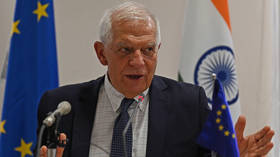 Josep Borrell, the EU's High Representative for Foreign Affairs, has spoken out against stripping Russia of its G20 membership. He stressed the significance of maintaining international platforms where countries that do not see eye to eye can share their opinions.
During a panel in New Delhi on Friday, a journalist asked Borrell: "Why can't you suspend Russia as a member of the G20?"
The diplomat replied by noting that "you cannot say that you want to push for multilateralism and then ask for Russia to go out of the G20," as that would be "contradictory."
"I think that we have to keep ways of talking or at least listening, if not talking, at least listening to the others," Borrell explained.
The top EU official described the G20 Foreign Ministers' Meeting held in the Indian capital Wednesday through Thursday as a "strong improvement with respect to the G20" summit held in Indonesia's Bali in mid-November of last year.
Back in November, Borrell put forward six points meant as guidelines for the EU's policies toward Russia. Describing the conflict between Kiev and Moscow as a "geopolitical battle," the diplomat argued that Brussels should aim to isolate Russia internationally and hold it accountable for its supposed crimes.
Commenting on the EU diplomatic chief's proposals at the time, Russian Foreign Ministry spokeswoman Maria Zakharova described those efforts as "hopeless."
Meanwhile late last month, ahead of the G20 finance ministers meeting in New Delhi, top Indian officials urged the member states to focus on global challenges, instead of dwelling on "contentious issues."
The country's information minister, Anurag Thakur, called for a "spirit of multilateralism," with Reuters quoting anonymous Indian sources as saying that New Delhi did not want discussion of measures against Russia to be raised during the event.
Previous G20 events, hosted by Indonesia, saw several Western nations use them as a platform to condemn Russia's actions in Ukraine and drum up support for the Ukrainian cause, despite Kiev not being a member of the club, unlike Moscow.
You can share this story on social media: