Danish mayor defends decision not to sack Russian-born teacher
Ukrainian parents wanted the educator fired for "propaganda"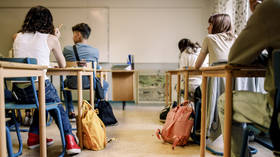 The mayor of a Danish city has backed the refusal to fire a Russian-born schoolteacher despite demands from Ukrainian parents, some of whom are refugees from the current conflict with Moscow. The teacher was accused of mistreating children and spreading "propaganda" at the Nordvestskolen school in Helsingor, although the management has disputed those claims.
"These mothers want the school to fire the teacher. But we don't do that in Denmark. We don't fire people because of their ethnic background," Helsingor Municipality Mayor Benedikte Kiaer told TV 2 on Sunday.
The teacher was described as a woman who has been living in the country for decades and is a Danish citizen. According to local media, out of the school's 32 students, 27 are Ukrainian and one is a student from Ukraine who is a Russian speaker.
The row broke out on February 3, when students were having a music class taught by the Russian-born teacher and her colleague. School inspector Soren Pedersen said both teachers complained to him about "very abusive behavior" from two Ukrainian students towards the teacher of Russian ethnicity. They also played and sang the Ukrainian national anthem in the middle of a lesson "as a provocation," Pedersen said.
The school sent a letter to parents about the incident. Three parents wrote back, saying that they did not want the teacher in question in class. "It is disrespectful to all Ukrainians to invite a teacher from Russia to work with Ukrainian children who have fled the war with Russia," wrote one of the mothers, Diana Chynba, as quoted by the media.
A second altercation occurred on February 24, exactly one year after Moscow launched its military operation in the neighboring state. Two schoolgirls brought a Ukrainian flag with them and tried to enter the classroom in the middle of a lesson they were not due to attend, the school said.
"The intention was to display the Ukrainian flag as a provocation against the Danish-Russian teacher," Pedersen said, adding that another member of staff had tried to stop them from interrupting the lesson and make them hide the flag. According to Pedersen, one of the girls told him that "if you have Russian employees, you support Russia."
Tereza Podoliak, one of the Ukrainian students involved, told TV 2 that she and her classmate, who had a Ukrainian flag wrapped around her shoulders, arrived to pick up a friend from another class. She accused the Russian-born teacher of starting the conflict.
Speaking to the media, Tereza's mother, Olga Podoliak, claimed she had no problem with the teacher's ethnicity. "But it is important to protect our rights and stop Russian propaganda," she stated.
Kari Jorgensen, the school's headmaster, defended the decision not to allow the displaying of the Ukrainian flag. "We are in Denmark. We celebrate the national days that are in Denmark," she said, arguing that students "need to get to know Danish culture."
You can share this story on social media: