US has Iran war plan – media
Devised under Trump, the document may be what's guiding the latest increase in joint military exercises with Israel, according to The Intercept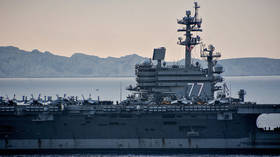 The Pentagon developed a conceptual plan for war with Iran during the presidency of Donald Trump, The Intercept has reported, citing budgetary documents. The document is one of several indications of Washington's increased hawkishness towards Tehran, the outlet argued.
The contingency plan code-named 'Support Sentry' was funded in the fiscal year 2019. Given that the Pentagon's resources are not unlimited, the fact that effort was expended to produce such a document means that US military planners consider the risk of a clash with Iran significant enough, The Intercept suggested.
Another sign of a possible escalation was the order to reassign Israel from European Command (EUCOM) to Central Command (CENTCOM) in the Pentagon's responsibility structure, the story said. Carried out by Trump just four days before the inauguration of President Joe Biden, the reassignment built on the rapprochement between Israel and the Arab states under the so-called Arab Accords. Israel was previously kept under the European Command in order to avoid stoking tensions with countries such as Saudi Arabia.
Under the Biden administration, the Pentagon has conducted a series of joint military maneuvers with Israel. The Juniper Oak exercise in January was openly touted by the Israeli leadership as a simulation of a war with Iran. The Intercept suggested that Support Sentry probably guided the drills.
"CONPLANs [Concepts of Operations Plans] serve as the intellectual framework or context when developing military exercises because it makes sense for units that are honing their skills to have that work be relevant to likely tasks," Dakota Wood, a retired US military planner, told the outlet.
Last week, US Ambassador to Israel Tom Nides stated that "Israel can and should do whatever they need to deal with [Iran] and we've got their back." While Israel has had an array of cabinets in the past several years amid an ongoing domestic political crisis, all of them have been hawkish towards Iran.
Aviv Kochavi, who retired from the position of the chief of staff of the Israel Defense Force in January, told the media that his nation's military had devised three operational plans to attack Iran. One includes "taking out Iranian nuclear installations and auxiliary sites" so that it could not create a nuclear weapon. Tehran denies that it is seeking nuclear armaments.
You can share this story on social media: