Israel and US aim to send message with record military drill
Iran will take notice of the joint exercise, which is the largest ever held by the two countries, the Pentagon has claimed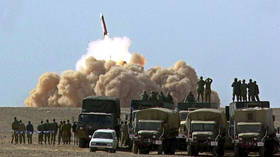 The US and Israeli militaries began their largest-ever joint exercise on Monday, seeking to hone seamless coordination of their forces and prove a point to Iran about their readiness to fight a conflict in the Middle East even as Washington juggles rising tensions with Russia and China.
"I do think that this scale of the exercise is relevant to a whole range of scenarios, and Iran may draw certain inferences from that," a senior US defense official told reporters. "It would not surprise me if Iran, you know, sees the scale and the nature of these activities and understands what the two of us are capable of doing."
Dubbed Juniper Oak, the exercise will involve over 140 aircraft, including nuclear-capable bombers and F-35 fighter jets, as well as 12 warships and about 7,500 troops, according to US Central Command (CENTCOM). It's designed to improve the "interoperability" of both forces.
"What we think this exercise demonstrates is, we can walk and chew gum at the same time," the unidentified defense official told NBC News. Despite the Pentagon's growing focus on China and its efforts to help Ukraine defeat Russian forces, he added, "We still have the excess capacity to be able to flex to another high-priority area of responsibility and conduct an exercise on this scale."
Juniper Oak is an all-domain exercise, meaning it will include naval, land, air, space and electronic-warfare drills. It will run from Monday through Friday in Israel and the eastern Mediterranean Sea. The US will reportedly employ four HIMARS rocket launchers, laser-guided bombs and stealth cruise missiles. The event will culminate with the firing of 180,000 pounds of live munitions while simulating an electronic attack and suppressing enemy air defenses.
"This is a sign that we continue to have Israel's back at a time when there's lots of turbulence and instability across the region," the defense official said. The source added, "If there's a sense that Americans are distracted, or the Americans are going away from the Middle East, and therefore they have free rein for their malign activities, I think this will disabuse them."
"I suspect Iran will take note of that, but not only Iran. China will take note of that, Russia will take note of that, other folks will take note of that."
You can share this story on social media: