AI 'stresses me out' – Musk 
The head of Tesla called the company a leader in "real world AI" but urged more regulation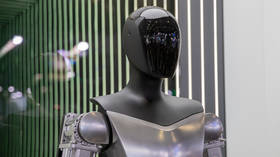 Tesla CEO Elon Musk has described his company as a global leader in "real world AI," but confessed that he felt "stressed out" by artificial intelligence as he called for tougher oversight.
At a presentation to investors at the Gigafactory in Texas on Wednesday, Tesla executives covered various aspects of electric car production and operation, and shared their assessment of how the world could undergo a transition to a sustainable energy mix.
Among other things, Musk presented an update on Tesla's Optimus project for humanoid robots. A video shown to the audience featured several bots which appeared to be in the process of assembling another one of their kind.
"We are the most advanced in real world AI," the billionaire CEO remarked. "I don't think there is anyone even close to Tesla on solving real world AI."
Optimus technology derives from Tesla's development of self-driving capability, Musk explained, adding that "a car is a robot on wheels, and this is a robot on legs."
During a Q&A session at the end of the event, Musk took a more pessimistic tone when asked how "generative AI… could help you make cars." The term refers to a type of neural network which generates content on request, from images to industrial designs.
Musk replied that he does not see that type of assistance being used by Tesla anytime soon. At the point where algorithms could make better cars, "none of us would be working, we'll just chill out," he mused, adding that he was concerned by "AI stuff."
"I think we need some kind of regulatory authority overseeing AI development and making sure it's operating within the public interest. It's quite a dangerous technology, and I fear I may have done some things to accelerate it," the entrepreneur stated.
Musk has long expressed concern that AI technology could run amok, potentially ending human civilization. While it certainly offers major benefits, significant caution should be exercised, he argued. "This one stresses me out," Musk admitted, before the Q&A session wrapped up.
You can share this story on social media: