Optimus bots will get 'catgirl' option – Musk
The Tesla CEO has been teasing fans with the prospect of sexy humanoid robots for years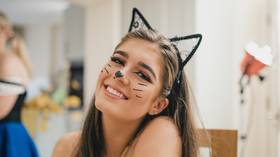 Tesla's prototype humanoid robots, which CEO Elon Musk showcased last week, may be sold in alternative versions that appeal to aficionados of Japanese culture, the billionaire suggested on Twitter.
"Naturally, there will be a catgirl version of our Optimus robot," Musk said of his new product.
He was referring to nekomusume, a fictional cat-woman that has its origins in Japanese folklore. Catgirls rose to prominence in manga and anime in the 1970s, before wining fans around the world.
Musk presented his machines as the future of unskilled labor at home and in factories during Tesla AI Day 2022 on Saturday. He said Optimus bots would come with a price tag of around $20,000 and would be "mind blowing" in five to ten years.
A catgirl variant might reportedly set Tesla's course into the realm of sex toys. Musk added a picture in the style of Japanese artist Hajime Sorayama, famous for his sexualized chrome-covered feminine robots.
Promising his fans that he would one day create sexier robots is a recurring theme for Musk. In 2019, he touted a software update for Tesla cars as a "crucial step towards catgirls," while a year later he held a poll on his Twitter page, asking whether he should make such a product. The options were "absolutely" and "of course."
The robot will eventually become part of human experience as sexual or romantic partners, Musk said during a conversation with TED's Chris Anderson in April, adding that "We could make a robot catgirl."
Reaction from fans to Musk's latest promise was enthusiastic, though a few pointed out that at least in some works of fiction creating autonomous robots, especially human-like and sexy, does not end well for humanity.
You can share this story on social media: