Reason for firings at key US nuclear base revealed – CNN
Six members of staff were reportedly dismissed following a failed safety inspection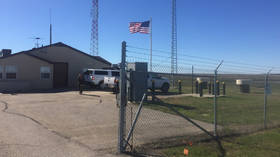 The US Air Force fired six members serving at a major nuclear base after their units failed a safety inspection, CNN reported on Wednesday, citing sources.
Eighth Air Force command announced on Tuesday that it had dismissed two senior commanders and four of their subordinates at Minot Air Force Base in North Dakota, which hosts 28 B-52H Stratofortress nuclear-capable bombers and 165 Minuteman III intercontinental ballistic missiles.
Officials said that the service members were dismissed "due to a loss of confidence in their ability to complete their assigned duties."
Two defense officials later told CNN that the firings took place after the personnel failed an inspection which intended to ensure that the nuclear weapons stockpile at the base "is safe and secure at all times."
The nuclear surety inspection (NSI) could be only passed or failed, with no middle ground, and its results are classified. The US Air Force's NSI program seeks to "ensure nuclear weapons and their components do not become vulnerable to loss, theft, sabotage, damage, or unauthorized use."
There are no signs that the inspection was related to the handling of US nuclear assets, the report says. Another defense official told CNN that the service failed the check for "non-compliance vehicle and equipment safety inspections."
Speaking to AP, an unnamed US defense official confirmed the report, adding that while the decision to dismiss the six Air Force members was based on one inspection, the unit had failed to comply with regulations for some time. He also claimed that the move was intended to show that the Air Force has taken a tough line on discipline among personnel handling nuclear assets, following several controversies.
In a notorious incident in 2007, a US B-52 bomber took off from Minot base while mistakenly loaded with six nuclear-armed missiles. In 2014, Malmstrom Air Force Base in Montana was hit by another scandal which saw half of its 183 missile-launch officers accused of cheating to obtain higher scores in their monthly proficiency tests.
You can share this story on social media: