US Air Force sacks nuclear base staff
Six service members, including two commanders, were dismissed due to "loss of confidence"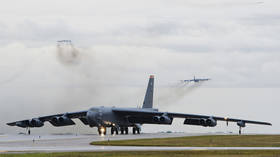 The US Air Force has dismissed six military service members who were stationed at a key nuclear base, including two commanders. They were sacked over "loss of confidence" in their ability to perform assigned duties, according to an official statement.
The firings occurred at Minot Air Force Base in Ward County, North Dakota, which is the only US military base that hosts two legs of the nuclear triad. Minot is home to 28 B-52H Stratofortress nuclear-capable bombers and 165 Minuteman III intercontinental ballistic missiles, as well as associated equipment.
Colonel Gregory Mayer, the head of the 5th Mission Support Group, and Major Jonathan Welch, the 5th Logistics Readiness Squadron commander, were the two senior officers whose dismissal was announced on Monday by Air Force Global Strike Command.
"These personnel actions were necessary to maintain the very high standards we demand of those units entrusted with supporting our Nation's nuclear mission," Major General Andrew J. Gebara, commander of 8th Air Force, explained.
Four subordinates of the two commanders were axed as well. They held leadership positions but were not identified by either name or rank in the press release.
The Air Force declined to explain what exactly had led to the decision, but Gebara assured the public that the military remained "committed to the success of [its] no-fail mission" of strategic deterrence.
According to Air Force Times, Mayer has a 25-year-long career under his belt, with experience in civil engineering. He arrived at Minot last June and took charge of 1,900 airmen and military assets worth $4.3 billion.
There were several high-level dismissals at the base over the past two decades, the outlet noted. The facility also faced scrutiny over misconduct, including "widespread cheating on the monthly proficiency test for missileers, mishandling of nuclear weapons, unprofessional conduct and drug use," the report added.
In 2013, Associated Press reported that an inspection of the base unearthed what one commander described as "rot," including weapons safety-rule violations, possible code compromises and other failings being tolerated. The Air Force removed 17 launch officers from duty at the time.
You can share this story on social media: