FBI investigating genderfluid former nuclear official – media
Sam Brinton, a 'kink' practitioner who worked in the Biden administration, is accused of stealing luggage at multiple airports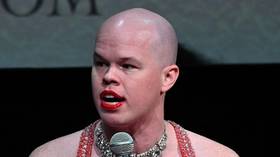 The FBI is investigating allegations that Sam Brinton, a nuclear engineer recently fired from US President Joe Biden's administration, stole clothes from a Tanzanian fashion designer at a Texas airport, Fox News has reported.
The designer, Asya Khamsin, lost a suitcase full of custom-designed clothing while traveling from Houston, Texas, to Washington DC in 2018. The theft went unsolved at the time, but Khamsin reported it again to Houston Police Department in December when she spotted photographs of Brinton wearing her designs.
Khamsin posted pictures of herself and Brinton wearing the same clothes to Twitter last month.
Officers in Houston have since handed the case over to the FBI, Fox News reported on Tuesday.
Brinton, a man who uses they/them pronouns, has been in hot water over similar thefts before. He is currently facing felony charges after allegedly stealing a woman's suitcase from Minneapolis-Saint Paul International Airport last September, and for allegedly stealing a suitcase from Harry Reid International Airport in Las Vegas earlier that summer.
Brinton was released on bail in both cases, but lost his job as deputy assistant secretary for spent fuel and waste disposition at the Office of Nuclear Energy in December.
Before the theft allegations surfaced, Briton's appointment by President Joe Biden last February was controversial in itself. While Brinton has two masters degrees and has advised Congress on nuclear policy, he is an open "kink" practitioner, and has spoken at universities about his lifestyle – which involves relationships with gay men pretending to be dogs.
You can share this story on social media: