EU nation's MPs greenlight joining NATO
Meanwhile, two members of the bloc haven't ratified Helsinki's bid yet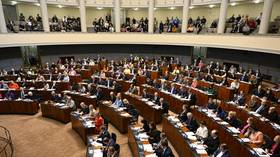 The Finnish parliament on Wednesday overwhelmingly voted in favor of joining NATO. The vote was held before Hungary and Türkiye had the chance to ratify the Nordic nation's accession to the US-led military bloc.
The bill was supported by 184 MPs of the 200-seat parliament, while only seven voted against it and one abstained. Seven others were not present during the vote.
Some of the bill's opponents, including the Left Alliance MPs Markus Mustajarvi and Johannes Yrttiaho, expressed their concerns over Finland not setting any conditions for its NATO membership regarding a potential deployment of nuclear weapons to its territory.
"I consider [it to be] the biggest problem with NATO membership … that Finland accepts NATO's nuclear weapons policy and at the same time effectively renounces its non-nuclear status," Yrttiaho said during the debate on Tuesday.
Finland's foreign and defense ministers then assured the MPs that NATO membership would not change Helsinki's stance on nuclear weapons. "I have already stated before that we are not trying to bring them to Finland, and no one is trying to force them here either," Finnish Defense Minister Antti Kaikkonen said.
The results of the vote were hailed by Finnish parliament speaker Matti Vanhanen, who called it a "historic decision" comparable to Finland joining the EU in the 1990s. The parliament head also said that NATO membership once again placed Finland "on the map of Europe."
The vote comes as NATO itself is yet to accept Finland into its ranks. While 28 members of the bloc formally ratified the bid of the Nordic nation and neighboring Sweden, Hungary and Türkiye are yet to do so.
The parliament justified the move by saying it wanted to finalize its part of the process before the elections scheduled for early April. The legislation must now be signed by the president before it comes into force.
Last week, Budapest indicated it might need more time for its lawmakers to vote on the bids by Sweden and Finland to join the Western military bloc. However, on Wednesday, MPs started the ratification process for the Nordic nations' bids following calls by Hungary's president for it to be sped up.
Ankara has previously expressed reluctance to allow either of the two nations to join NATO, citing their support for Kurdish groups that Ankara considers to be terrorists. Türkiye, Sweden and Finland signed an agreement last June to address those concerns and pave the way for approving NATO's expansion.
You can share this story on social media: