Israeli parliament passes death penalty bill
Palestinians say the law – written to target "terrorists" – is "rooted in Jewish supremacy"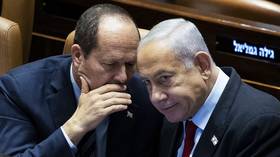 Israeli lawmakers have voted in favor of a bill that would impose the death penalty on "terrorists" who murder Israelis. Backed by Prime Minister Benjamin Netanyahu and his hardline allies, the bill has been bitterly opposed by Palestinians and foreign observers.
The death penalty bill passed its first reading in the Israeli parliament by 55 votes to nine on Wednesday. Most of the opposition – led by former Prime Minister Yair Lapid – abstained from the vote in protest.
The bill was authored by MP Limor Son Har-Melech and supported by Prime Minister Benjamin Netanyahu and National Security Minister Itamar Ben-Gvir. Both Son Har-Melech and Ben-Gvir are members of the 'Jewish Power' party, a radical Zionist faction that helped Netanyahu's right-wing Likud party back into power in last November's elections.
Under the legislation, anyone who "intentionally or out of indifference causes the death of an Israeli citizen when the act is carried out from a racist motive or hate to a certain public... and with the purpose of harming the State of Israel and the rebirth of the Jewish people in its homeland" shall face execution, with no chance of prison time.
The law would apply in the West Bank, which although partially administered by the Palestinian Authority, is subject to Israeli military law.
The bill crosses "a clear red line as part of Israel's slide into total fascism," Arab-Israeli political party Hadash Ta'al said in a statement. "Today it is the Palestinians, tomorrow it will be the protestors on the streets. Ben-Gvir will be easy on the trigger when it comes to determining who is a terrorist."
The Palestinian Authority said that the bill is "cruel, barbaric, and inhumane," describing it as "rooted in Jewish supremacy." Its passage will lead to Palestinians "arbitrarily and ceremonially being put on death row," its statement continued.
Thousands of Israelis gathered outside the country's parliament building in recent days to protest the bill, while opposition poured in from abroad. Speaking after a meeting with Israeli Foreign Minister Eli Cohen on Tuesday, German Foreign Minister Annalena Baerbock called the bill "particularly worrying," given that Israel has not executed anyone since Nazi war criminal Adolf Eichmann was hanged in 1962.
You can share this story on social media: