Biden must rein in illegal Israeli settlements – former ambassador
By building on Palestinian land, Israel is breaking a deal it made with the US nearly 20 years ago, Daniel Kurtzer said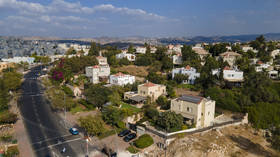 The administration of US President Joe Biden should remind Israel that its ongoing settlement of the West Bank violates a deal it struck with Washington in 2004, former US ambassador to the country Daniel Kurtzer said on Thursday.
Israeli Prime Minister Benjamin Netanyahu granted retroactive authorization to nine settlements in the occupied West Bank earlier this month. Finance Minister Bezalel Smotrich stated afterwards that 10,000 homes for Jewish settlers would be built in these locations. While the UN Security Council issued a statement denouncing the move, the US reportedly intervened to thwart a Palestinian plan to issue a legally binding resolution instead.
Retroactively authorizing these illegally built outposts is "a significant violation of a commitment that the Israeli government made in writing to the American government back in 2004," Kurtzer told a Jewish Democratic Council of America conference on Thursday.
Israeli Prime Minister Ariel Sharon promised in 2004 that he would demolish any unauthorized Jewish settlements in the West Bank. Sharon tore down 21 settlements in Gaza and four in the West Bank the following year, but outposts began going up again under Netanyahu in 2012, and 132 are now officially sanctioned by the Israeli government, according to data from Israeli activists.
"Not only are they not dismantling these illegal outposts, but they're trying to legalize them ex post facto," Kurtzer said. "And there have been many that have been built since that time, so that the number is really quite significant."
"I hope the Biden administration reminds Israel that this is a commitment in writing that the both of us have in our files," he added.
Netanyahu granted Smotrich control over civilian issues in the West Bank on Thursday, giving the hardline Zionist minister authority over planning, construction, and land allocation. Smotrich's first act was to authorize plans for more than 7,000 new homes, some of which are located in outposts that have not been formally legalized yet.
Critics of Israel's settlement policy argue that by chipping away at Palestinian land, the government is lowering the chances of reaching a two-state solution with the Palestinian Authority.
Kurtzer called the settlement process a "creeping annexation" of the West Bank, and declared that "if Israel is still interested in a peace process, it's going to have to stop a number of the actions that it's taking…and the United States will have to demonstrate our own resolve in advancing Israel in that direction."
You can share this story on social media: