Erdogan portrait torched in Finland ahead of NATO vote – media
The demonstration in Helsinki was organized by pro-Kurdish "anti-authoritarian" activists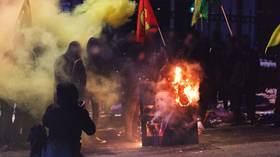 A group of protesters burned a portrait of Turkish President Recep Tayyip Erdogan in front of his nation's embassy in Helsinki over the weekend, Finnish media has reported.
The episode happened amid tensions before Wednesday's vote on membership of NATO. A majority of MPs passed the bill on joining the US-led military bloc.
Four people were arrested during what turned out to be a chaotic incident, chief inspector of the Helsinki Police Department, Heikki Porola, told journalists. The protesters, who have since been released, failed to comply with orders by officers, he said.
There were some 20 demonstrators on the scene, the official reported, adding that burning an image of an identifiable person may constitute an offense.
The demonstration, which was held on Sunday, was organized by a self-described "anti-authoritarian group" called A-ryhma (Group A), which shared photos of the act on its Twitter account. The group stated that the action was meant to support Kurdistan and protest "the NATO membership process, where Sweden and Finland compete to whitewash Türkiye's war crimes and make plans together to suppress the justified opposition to it." The group claimed that police "responded aggressively" to their actions, using pepper spray against one participant.
Last year, Türkiye dampened Finland's and Sweden's aspirations of joining NATO by accusing them of harboring "terrorists" from the Kurdistan Workers' Party (PKK) and other associated groups. It also stated that the Nordic nations were undermining its national security with arms export bans.
A trilateral agreement, which was signed in June and meant to address Ankara's complaints, resulted in a lifting of the bans but has so far failed to resolve the situation fully. The group behind the protests on Sunday wants the trade restrictions reinstated.
Kurdistaniin kohdistamasta hyökkäyssodasta sekä totalitaristisesta sisäpolitiikasta vaikenemista, tai asevientilupien myöntämistä Turkkiin. Ikään kuin alleviivatakseen sananvapauden tukahduttamista ja häpeällistä nöyristelyä Turkille, poliisi pyrki lopettamaan... [2/3] pic.twitter.com/ouYYuYcqnN

— A-ryhmä (@A_ryhma) February 27, 2023
Ankara perceives Kurdish militias in Syria and Iraq as a threat, claiming they are allied with the Türkiye-based PPK, which waged a lengthy guerilla war against the Turkish government. The Turkish military has conducted several cross-border operations against Kurds in the past decade.
There have been several anti-Turkish protests recently in light of Ankara's reluctance to back NATO membership for Finland and Sweden. In January, Kurdish protesters torched an Erdogan effigy in Stockholm, prompting complaints from the Turkish government.
Another protest in Sweden in the same month, in which a right-wing activist burned a Koran in front of the Turkish embassy, seriously damaged Stockholm's relations with Ankara and resulted in the Turkish government indicating that it would not back Sweden's bid.
Finland said it may have to proceed with NATO accession without Sweden, even though the two applicants filed their bids jointly and sought to join the US-led bloc together.
You can share this story on social media: