Beijing responds to FBI's Covid origin claim
China's Foreign Ministry told the US to "stop politicizing" the issue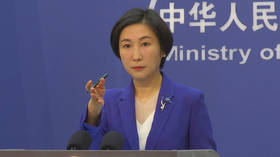 China has warned the US against making "politicized" claims about the origins of Covid-19. The Foreign Ministry in Beijing was responding after FBI Director Christopher Wray claimed that the virus "most likely" came from a Chinese government laboratory.
Speaking at a regular briefing on Wednesday, Foreign Ministry spokeswoman Mao Ning was asked to comment after Wray said the FBI was confident that the virus escaped from a lab in Wuhan in late 2019.
The laboratory leak theory "is extremely unlikely," the spokeswoman responded, adding that this conclusion was supported by a joint China-WHO expert group which visited the laboratory facilities in Wuhan, the city which became ground-zero for the pandemic.
Mao argued that "when intelligence agencies engage in scientific issues, they politicize the source-tracing issue." She insisted that the US "cannot discredit China" and "will only further lower its own credibility."
"We urge the US to respect science and facts, stop politicizing the origin-tracing of the novel coronavirus, stop engaging in political and intelligence-based tracing, and stop interfering with and undermining the international community's solidarity" in the fight against Covid, Mao stressed.
The FBI director's comments came after the Wall Street Journal cited a classified intelligence report as claiming that the US Energy Department believes the Covid-19 pandemic arose from a leak in a Chinese lab.
However, the department was said to have come to this conclusion with "low confidence," with four other federal agencies believing that the pathogen spread by way of natural transmission.
Echoing these reported assessments, National Security Council spokesperson John Kirby said on Monday that the US government has not reached a "definitive conclusion."
Meanwhile, Beijing has rejected the leak claim as an unfounded rumor at best, asserting that it has been "open and transparent" with investigators looking into the cause of the pandemic.
You can share this story on social media: