German FM plans 'feminist' blitz
Annalena Baerbock believes gender issues are "bitterly necessary" for Berlin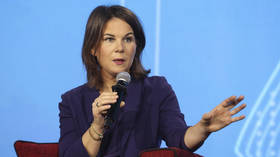 Green Party leader Annalena Baerbock has put together a platform for "feminist foreign policy," several outlets reported on Tuesday. The revamp of Berlin's diplomacy, due to be made public later this week, will infuse "gender issues" into everything from humanitarian aid and energy to climate change.
"We are pursuing a feminist foreign policy because it is bitterly necessary. Because men and women are still not equal worldwide," Baerbock wrote, according to Politico Europe.
The 80-page report outlines 10 principal guidelines, according to the German news agency DPA. Among them are offering "gender-sensitive" humanitarian aid, involving "women and marginalized groups" in economic development and considering the "gender issues" dimension of climate and energy policies.
The measures are intended to "shape our inner workings and help us to form a 'feminist reflex'," Baerbock reportedly wrote, arguing that one of the foreign ministry's goals should be to "measurably advance gender equality worldwide." She also wants to create a new post of "ambassador for feminist foreign policy."
By her definition, however, feminism policy is not just for women, but also for those "marginalized by society on the basis of gender identity, origin, religion, age, disability, sexual orientation or other reasons."
Therefore, in addition to spending 85% of project funds in a "gender-sensitive" manner, the Foreign Ministry intends to spend another 8% in a "gender-transformative" way that "actively challenges gender norms" by the end of the legislative cycle.
Baerbock's Greens are currently in the "traffic light coalition" with Chancellor Olaf Scholz's Social Democrats and the Free Democrats. The opposition has already pushed back, however. Bavarian PM Markus Soeder, who chairs the CSU party, told the Mediengruppe Bayern that her plan was "incomprehensible" and that "traveling the world and telling everyone else what they should and should not do is doomed to failure."
Soeder has already called on Scholz to sack Baerbock before she becomes a "security risk." The foreign minister has made a series of un-diplomatic gaffes over the past several months, mostly in relation to the conflict in Ukraine, reportedly prompting Scholz's office to keep "careful track" of her mistakes.
In August 2022, Baerbock infamously told an EU conference in Prague that she intended to deliver on her promises to Ukraine "no matter what my German voters think."
Last month, during a debate in the European Parliament on sending Ukraine more weapons, Baerbock said EU members should not fight among themselves, since "we are fighting a war against Russia." She later walked that back, but still claimed her remarks were taken out of context and deliberately misinterpreted by the "Russian regime's propaganda."
In mid-February, Baerbock told the Munich Security Conference that Moscow's policy needed to "change by 360 degrees," prompting former Russian President Dmitry Medvedev to dub her a "connoisseur of geometry."
You can share this story on social media: