Scholz's office logging German FM's 'mistakes' – Bild
One of them was reportedly Annalena Baerbock's "we're at war with Russia" comment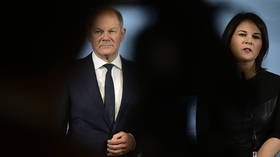 German Chancellor Olaf Scholz has grown displeased with the country's foreign minister, Annalena Baerbock, the newspaper Bild reported on Sunday, citing a person familiar with the matter.
"In the chancellor's office, Baerbock's mistakes are being carefully noted," a government insider was quoted as saying.
The most recent rift was reportedly when the foreign minister told the Parliamentary Assembly of the Council of Europe last week that "we're fighting a war against Russia, not against each other."
Baerbock's words clashed with Berlin's stance that, despite supplying Kiev with heavy weapons, Germany is not a party to the armed conflict. Her comments were condemned in Russia, as well as slammed by the opposition at home as reckless and dangerous.
"This is a war between Russia and Ukraine," Scholz clarified on Saturday. "That doesn't change if we provide Ukraine with financial and humanitarian aid or deliver weapons."
Apart from the 'war' comment, according to Bild, Baerbock jumped the gun this month by saying in an interview with French media that Berlin would not bar Poland from sending German-made Leopard 2 tanks to Ukraine. The chancellery was said to have been blindsided by her statement because Scholz was still negotiating the sensitive matter at the time with the US and other European countries.
The report said that Baerbock also ruffled some feathers by refusing to fly to Paris for a meeting in October, citing "a family vacation," and by voicing reservations over the timing of Scholz's trip to China last year.
Last week, the German Foreign Ministry apologized for tweeting that Russian Foreign Minister Sergey Lavrov, who was travelling in Africa at the time, had come "not to see leopards." A spokeswoman for African Union Commission Chairman Moussa Faki slammed the tweet, accusing Baerbock's ministry of rehashing "colonial tropes."
You can share this story on social media: