White House pushes to renew controversial spying law
Section 702 of the Foreign Intelligence Surveillance Act allows agencies to spy on anyone, anywhere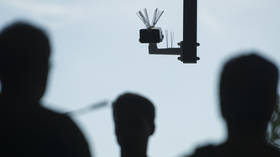 Attorney General Merrick Garland and Director of National Intelligence Avril Haines wrote to Congressional leaders on Tuesday, asking them to renew a post-9/11 law allowing the US to spy on foreign targets anywhere in the world. While the law is explicitly intended to surveil foreigners, it has been used to monitor millions of Americans.
Section 702 of the 2008 amendment to the 1978 Foreign Intelligence Surveillance Act legalized the Bush administration's secret wiretapping program, allowing US intelligence agencies to monitor messages from abroad made through American networks like Google. Set to expire at the end of the year, the White House is already pushing lawmakers toward its renewal.
"The information acquired using Section 702 plays a key role in keeping the United States, its citizens, and its allies safe and secure," Garland and Haines wrote in their letter, describing the reauthorization of the law as "a top legislative priority for this administration."
Garland and Haines, the latter of whom served as deputy director of the CIA under Barack Obama, claimed that information gathered using Section 702 was instrumental in foiling cyberattacks on the US, halting the trafficking of weapons of mass destruction, and thwarting foreign states' attempts to recruit spies in the US.
In a separate statement on Tuesday, National Security Advisor Jake Sullivan described Section 702 as a "cornerstone of US national security."
However, while Garland and Haines stressed that Section 702 cannot be "directed against Americans at home or abroad," that is not the case. A report last year by the Office of the Director of National Intelligence (ODNI) found that the FBI alone made "fewer than 3,394,053" queries of US citizens between December 2020 and November 2021, based on data obtained under Section 702.
Although the law cannot be used to surveil Americans directly, it allows the US to gather intelligence on any American whom a foreign surveillance target contacts.
This intelligence is stored for five years, during which it can be searched – for example by name, phone number, or email address, by US intelligence agencies.
President Joe Biden will likely face opposition from some Republicans when it comes to renewing Section 270. House Judiciary Committee Chairman Jim Jordan said last year that Congress "should not even reauthorize FISA." Allies of former president Donald Trump previously condemned the FBI for abusing the FISA process to illegally wiretap the ex-president.
You can share this story on social media: