Convicted transgender rapist receives sentence
Isla Bryson was convicted last month of raping two women while still living as a man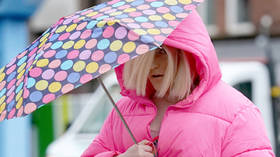 Scottish double rapist Isla Bryson has been sentenced to eight years in prison by the High Court in Edinburgh. The sex offender's case had previously grabbed media headlines and sparked uproar after she was briefly placed in an all-female prison facility.
Bryson, 31, was found guilty last month of raping two women while still living as a man. One offense took place in the town of Clydebank near Glasgow in 2016, while the other one happened in Glasgow's district of Drumchapel three years later.
According to the prosecution, Bryson met both victims online and "preyed" on vulnerable women.
Judge Lord Scott argued that Bryson was at "high risk" of reoffending and sentenced her to another three years on license, meaning there will be a period of supervision after the release.
Bryson, known as Adam Graham at the time of the rapes, denied all the charges, claiming that both victims had consented to having sex and arguing that she "would never hurt another human being."
However, during sentencing, Judge Lord Scott dismissed Bryson's claims that the rape victims colluded to place the blame on him. "You see yourself as the victim in this situation. You are not," he said.
While conceding that Bryson could be deemed "vulnerable in some ways" due to adverse childhood experiences, he stressed that this factor could not serve as an excuse for raping two women.
Bryson's case sparked a media frenzy after she was initially placed in the all-female Cornton Vale prison, with politicians and activists voicing concerns over whether the safety of women in the facility could be compromised by the presence of the transgender sex offender.
While the Scottish Prison Service concluded that Bryson did not pose any threat to other female inmates, following the backlash and an intervention by First Minister Nicola Sturgeon, she was moved to a male facility.
At the time, Sturgeon said that while it was not appropriate for her to give details of where inmates are being incarcerated, she confirmed that Bryson would not be placed at Cornton Vale, expressing hope that this decision would "provide assurance to the public."
You can share this story on social media: