School suspends sex education after drag queen debacle
A man in drag allegedly told 11-year-olds that there are 73 genders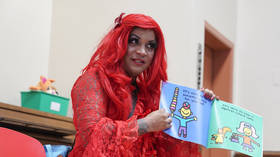 A school on the Isle of Man has paused its sex education program after parents complained about "graphic" and "indecent" lessons in which a drag queen lectured students on gender and teachers told preteens how to masturbate.
Pupils at Queen Elizabeth II High School in the town of Peel were taught by a drag queen who told them there are 73 genders, a local representative claimed this week. When one pupil responded "there's only two," the cross-dressing man made the child leave the classroom, she alleged.
Some 11-year-olds at the school were taught about oral and anal sex, while others were told how to masturbate and safely practice "fisting." Another group was shown how surgeons can create an artificial penis using skin grafts from a girl's arm, the representative claimed.
A drag queen told a class of 11 year-olds in Isle of Man schools that there were 73 genders, and threw out one child who disagreed.Pupils were told about "sex change operations" and oral and anal sex, Eliza Cox, vice-chairman of Marown Commissioners, told Energy FM Isle of Man. https://t.co/ZZx3ZvT4G1pic.twitter.com/ZhI8gpVVVz

— Women's Voices (@WomenReadWomen) February 28, 2023
The island, which is a dependency of the British crown, introduced a new sex education curriculum in September. Based on a controversial model taught in Scotland, the curriculum is apparently unpopular with teachers, with one reportedly so uncomfortable with its content that she told students "please don't listen to me," as she taught it.
Parents responded with outrage, and a petition demanding to know "why was this guest speaker permitted to discuss gender issues to an inappropriate child audience by an inexperienced and untrained adult?" has been signed by more than 500 people, the Telegraph reported on Monday.
The Isle of Man's education department said that it has "taken the decision to pause all [sex education] delivery across primary and secondary schools" until an independent review has been conducted. However, the school's head teacher told local radio on Tuesday that "there could be a number of inaccuracies" with the reports being shared on social media.
'Woke' sex education programs have become more commonplace in British and American schools in recent years, often leading to outrage from parents. The Scottish program on which the Isle of Man's curriculum was based has been slammed for "normalizing" underage sex, while Californian schools teach children that there are dozens of genders and sexualities.
You can share this story on social media: