West considers peace talks deadline for Ukraine – Bild
Kiev has until autumn to retake territories seized by Russia or the West will pressure it into talks with Moscow, Bild claims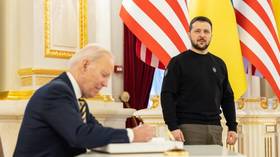 Ukraine's Western backers are considering the imposition of an ultimatum on Kiev in relation to potential talks with Moscow, German tabloid Bild reported on Monday, citing anonymous government sources in Washington and Berlin.
With new arms supplies, the US and its allies want to provide Kiev with an "incentive" to try and recapture territories seized by the Russian forces, Bild claimed, adding that the West wants to see results in this respect by the fall.
"Should the counter-offensive fail, the pressure on Kiev to negotiate with the Kremlin will increase," the paper reported.
Earlier, the Wall Street Journal reported that the UK, France and Germany had allegedly offered Kiev weapons and security commitments under a plan aimed at pushing Kiev to negotiate with Moscow. The US media outlet claimed last week that London, Berlin and Paris were supposedly ready to offer security guarantees just short of NATO membership.
According to Bild, however, the conditions were not that generous. "The Europeans and the US cannot and do not want to provide Ukraine with hard security guarantees such as NATO membership at the moment," German MP Norbert Roettgen, who previously headed the Bundestag's Foreign Affairs Committee, told the tabloid.
The German Chancellor's Office also said on Sunday that potential NATO security guarantees played "no role at all" in the discussions between the three bloc members. Berlin neither outright denied nor confirmed the existence of the negotiations plan, Bild added.
French President Emmanuel Macron and German Chancellor Olaf Scholz also encouraged Ukrainian President Vladimir Zelensky to engage in talks with Moscow earlier in February, according to the media reports.
NATO Secretary General Jens Stoltenberg previously admitted that Moscow was winning the logistical war of attrition. He also said it was unclear how much the bloc could spend on further military support for Kiev.
Last week, the Russian Foreign Ministry set out its conditions for a diplomatic solution to the conflict. The list included the West halting military aid for Kiev, as well as Ukraine returning to its neutral status after being "demilitarized" and "denazified." Zelensky rejected any negotiations with Moscow by saying there was "nothing to talk about" and "nobody" to talk with.
You can share this story on social media: